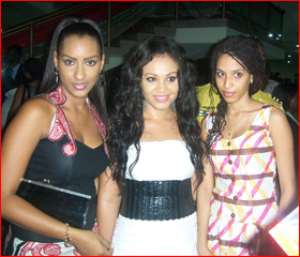 Juliet Ibrahim, Nadia Buari
On Thursday, April 1, the much-awaited premiere of Sparrow Production's new movie, 'Checkmate', took off at the National Theatre in Accra.
And like a magnet, the event pulled the girls, boys, daddies, mummies and uncles of the industry to the premiere. Among the crème-de-la-crème of Ghana's showbiz present were Emmanuel Armah, Vivian Achor, Juliet Ibrahim, Omar De 1st and others.
Also present to give the event the glitz and glamour were the cast of the movie which included Ekow Blankson, Nadia Buari, Naa Ashorkor, Senanu Gbedawo, Khareema Aguiar and a number of others.  
Despite a slight downpour early that evening, movie enthusiasts turned out in their numbers. For the ladies, it was a very good reason to show off the latest fashion trends. Looking fabulous in all the currently fashionable hues, from sky blue to hot pink to bright red and ash, they glittered and gleamed.
The first screening however started as early as 6pm, with the subsequent one showing at 9pm. The night's emcee was Radio Gold presenter KOD.
This is Sparrow Production's fifth movie after the release of 'Life and Living It', 'Scorned', 'Perfect Picture' and 'A Sting in a Tale'.
Unlike the other movies which were solely directed by Shirley Frimpong-Manso, 'Checkmate' was co-directed by emcee and presenter Chris Attoh and produced by his elder brother, Ken Attoh, the alleged baby daddy of Shirley's yet-to-be-born baby.
'Checkmate' tells the story of Kwame, played by new face Senanu Gbedawo, who made all the right moves in his life; a good job, a beautiful devoted wife, an adorable child, and an impending promotion as a senior customs officer at the airport.
But what seems like a typical guys' hang out on a weekend away from home in the company of his new friend and mentor, Kiki, turns out to be the one wrong move Kwame makes.
After losing a game of chess, he succumbs to a bet to seduce the attractive, sexy Caroline, played by Nadia.
A few weeks later, the consequences of a dirty forgotten weekend pops up in Kwame's life, threatening to destroy everything he so dearly loves. But the games are just beginning when he realizes that Caroline's demand for his love is nothing compared to the demands of a drug lord who will do anything to get Kwame's assistance in smuggling drugs out of the country.
Observers say looking at the trend and caliber of its hierarchy, Sparrow Production is gradually turning into a family production house.
Source: NewsOne