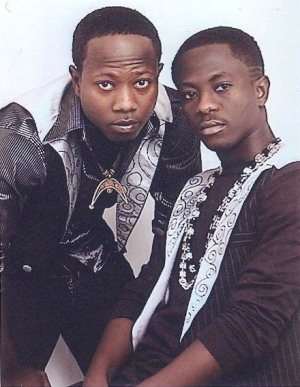 Bradez (Stone [left] and Kunata [right])
The sensational music duo, Bradez (Stone and Kunta Kinte) is set to release a single about what they have gone through in the past year and it will centre on Kunta Kinta who was in the media throughout 2009 due to his ill health. It will be released this year and will also be followed by their third album.
The duo made this revelation when, Myjoyonline.com caught up with then at their residence at Kantinkrono, a suburb of Kumasi.
The pair is one of Ghana's most popular and sought after performers and their song, Simple, will definitely make any collector's shopping list. The song enjoyed massive airplay on radio, parties and night clubs.
They admitted that at the early stages of the year 2009, the Ghanaian music scene was dominated by Nigerian music. They said Hip life musicians switched their style to make it more acceptable internationally by using pidgin, Afro-pop and Dance hall type of music to beat down the influence of the Nigerian music.
Stone was quick to say that new songs being released now have African rhythms in them, "the types of rhythms that we have in Africa are easier to blend with the new types of music with the likes; 'Simple', Ruff N Smooth's 'Swagger', 4X4's'World Trade Centre' and the rest. That type of groove is almost close to highlife but with the 'crunk', people found it difficult to dance with it in the clubs and the rest because the timing was different."
As artistes, the most challenging thing they faced were that their album and song 'simple' became an instantaneous hit when they least expected it and Kunta felling ill at the middle of the 2009.
"Our album became number one instantly and unexpectedly for a very long time. We didn't expect some things to come that quick. Secondly, my brother fell ill at the middle of the year, so we had a very great hit and my brother was also ill. We had to promote the album and at the same time be with him to get better," Stone said.
"I had to play shows alone before we used to play shows together. I had to adjust myself to understand that right now I have to be on the front line and do things that I have not done before and still do it to my best of knowledge," he added.
The challenges and rumours that came after Kunta's ill health did not perter the group since they said it was part of the game. They stood firm amidst the challenges become one of the most successful music duo with the most successful song and album of 2009.
After numerous rumours that Kunta was totally flat on a sick bed, the duo, billed to perform at the 2009 Miss Malaika finals on November 14 decided to use the platform to prove that, he was very active than what people perceived of him. Kunta made a major public and stage appearance for the first since it hit public that he was not well.
Describing the inspiration for his appearance, Stone said, "In showmanship, we do an act to make a statement. That act we made was to tell people that he is not down as they've heard but he can walk, he can talk, he can do everything we do before people thought he was flat on a bed,"
"So we came on stage with a wheel chair, to put people on their original state, 'oh okay, this is what we heard' and later in the show, we made him rise and walk to make them realise that he could walk," he said.
They said people mistook the concept and thought he has been in a wheel chair all the time. To compound to that, rumours start circulating around that Kunta was dead which astonished them but he said the rumour made them much more popular and also showed the love people had for them.
The Bradez thanked their fans for their support and also for voting for their song 'Simple' as number one song for 2009. They asked their fans to expect a lot from them this year and that their third album will be bigger than their second album 'Breakthru'. They also hope to win more awards and penetrate the African and world music market this year.
They finally whished Ghanaians a prosperous New Year.