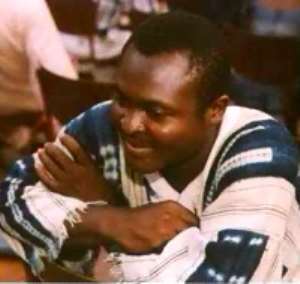 Dela Botri has been doing folk music for 30 years now and he is the founder of the Hewale Sounds.

One of Ghana's sensational folk music group Hewale Sounds led by Dela Botri has been selected by the British Broadcasting Corporation (BBC) to feature on one of its television programs.
Dela Botri disclosed this in an interview with Myjoyonline.com.
He said the group was selected having impressed BBC with some of their videos on YouTube after a friend recommended them to the corporation.
He said the programme is a Children's programme called 'Learning and Filming'.
The BBC Crew, he said, are expected in the country on October 26 for the official shooting on the November 1. The Crew will also work with other groups in the Volta and Central Regions.
Dela Botri started doing folk music since 1979 and he has been in it for 30 years now. The Hewale Sounds is made up of 14 members who play different types of local and foreign instruments. The group is managed by John Owu who also doubles as their public relations officer.
The experienced musician said he studied music from the Pan-African Orchestra and also under Nana Danso Abiam, a musicologist at the University of Ghana from 1996-2004.
He has many albums which includes; 'Baakoye', 'Kaa she gbeye' and 'Taabayiriba'. His current album 'Santrofi' was released last year at the Goethe Institute by the kind courtesy of the German Ambassador.
He has performed with the Hewale Sounds at international shows and events in South Africa, Norway, United States, Jordan, Cote D'Ivoire and many others.
He has featured and worked with Obuor (on his latest album), Obrafour (on his latest album), Celestine and Josh Laryea's 'Emmre'.
He said his style of music is not popular as the others, which he blamed on the type of system we have in the country where DJ's take 'Payola', as well as the lack of appreciation of the citizens towards their own music and culture.
"People in Ghana do not appreciate what we have. We must accept our culture. What we are learning is not our culture, it is western culture. It is not for us. We should learn from the Nigerians who use their local songs in their movies. This helps in maintaining their culture."
He described the current changes and developments in the Ghanaian music scene as fashion design. "If you are a fashion designer, you always come out with a new style. I do not see anything wrong with the modern forms of music being produced now but people should appreciate what we have here. We have to fuse the new forms of music with the traditional ones we have here."
Dela Botri's form of music relys on local instruments and said there is nothing wrong with modern technologies and equipments being used to produce music now.
He advised that people must not solely rely on these modern technologies. "People must learn the basics of music so that they are not caught wanting when it comes to the productions of beats and stage performances, and not all musicians have knowledge when it comes to that.
"Learn how to play some musical instruments and it will help you. When you have some knowledge in music, when you are asked to give a key or sing an E-flat, you will not be found wanting," He added.
He was worried that foreigners are rather coming down to Ghana to learn our culture and music. He urged the Ministries of Education and Culture to come out with programmes, activities and symposiums on "what we are doing to preserve our music, how we are going to develop it and how are we going to promote it so that the youth will be aware of the benefits of our own culture, music and rhythms."
Story by Aglanu Dela Ernest/Myjoyonline.com/Ghana