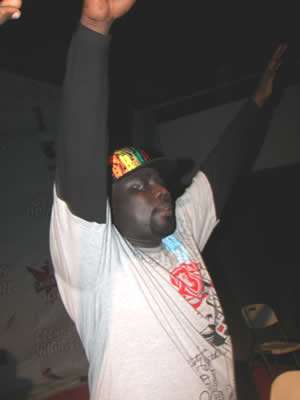 DJ Black punches the air to roars of support from his fans at a recent show
Ghana's Disc Jockey extraordinaire, Kwadwo Ampofo known in showbiz circles as DJ Black was in Liberia over the weekend to treat music lovers in that country to his professional skill.
Management of the country's first-class night club and recreational center, De ja Vu Night Club, invited Mr. Black over to Monrovia, to treat their guests to a salad of contemporary R&B, hip hop music and native African beats.
The gig which was staged on Saturday night, was preceded by interviews on UN Radio in the heart of the capital and photo sessions with fans, celebrities and the public.
De ja Vu witnessed an unprecedented patronage on Saturday night, as a crowd of party freaks comprising mainly Lebanese, Americans, Liberians, South Africans, Nigerians and some Ghanaians swarmed the lobby of the club, swaying their bodies, shuffling their feet and banging their heads to the irresistible rhythms served by His Blackness.
"I was pleasantly surprised at the crowd of people who were screaming my name as the show wore on, as if they knew me,"Black said shortly after his arrival. "I also feel lots of people out there are listening to my podcasts…think I'll step it up."
Liberia was ravaged by a bloody war in the 1990's which left most of the country in deprivation.
Mr. Black says Ghanaians should be eternally thankful to God for the peace they enjoy and halt all the pockets of violence being recorded across the country.
The DJ's favorite DJ, Mr. Black, returns to the decks on Friday Night on the Weekend Warmer on Joy 99.7 FM, or otherwise track him down on the Open House Party every Saturday night.

Story by Bernard Naasara Saibu/Myjoyonline/Ghana