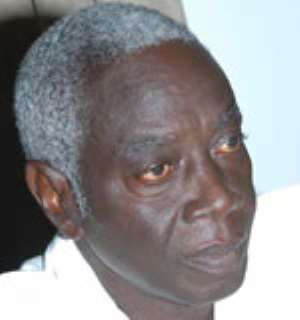 The Chairman of the Electoral Commission, Dr Kwadwo Afari-Gyan, meets officials of the New Patriotic Party (NPP) and the National Democratic Congress (NDC) ahead of the declaration of results of the presidential election run-off.
The meeting with the parties seeks to resolve a misunderstanding that has arisen over figures from some constituencies in the Ashanti Region.
A former Deputy Defense Minister, Dr Tony Aidoo, and Propaganda Secretary of the NDC, Fiifi Kwetey, have alleged the NPP is manipulating the figures obtained from certain constituencies in Kumasi to show a 97 to 99 percent voter turnout.
Officials of the NPP have condemned the allegations as fictitious.
Several supporters of the NDC on Monday trooped to the premises of the EC, seeking a declaration of the result in favour of their candidate, Prof. John Evans Atta Mills.
An analysis of ballots from 229 out of the 230 constituencies by Joy FM's statistical team put Prof. Mills in the lead with 4,508,343 representing 50.37% while his counterpart Nana Addo Dankwa Akufo-Addo of the NPP trails with 4,441,619 representing 49.63%.
The figures register a difference of 66,724 between the two candidates.
With the EC's first-past-the-post system applying to the run-off election, there have been conclusions that the NDC candidate stands a safer chance of winning.
The NPP at a press conference on Monday dismissed the projection, describing it as speculative and premature.
"While there are still seven constituencies with 458,813 votes still outstanding they believe that the NPP candidate, Nana Akufo-Addo, cannot obtain the votes he needs from the remaining constituencies to win presidency," NPP Chairman Peter Mac Manu said.
According to him Joy FM's prediction came when there still were ballots to count.
Although the situation looks murky, Dr Afari-Gyan has promised an amicable solution.
Story by Fiifi Koomson