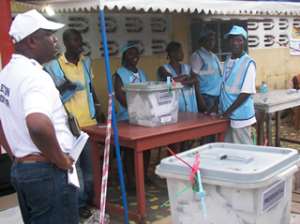 The NDC in the Ashanti Region has raised concerns over today's presidential runoff, citing a catalogue of irregularities.
Nana Ohene Agyekum, NDC Ashanti Region Chairman, alleged on Citi FM that the New Patriotic Party (NPP) has employed the services of some 'machomen' to intimidate NDC supporters, driving away of their agents, and also accused Electoral Commission officials of applying fake indelible ink on people's fingers to enable them wipe and revote.
The NDC had early on held a press conference to outline some electoral irregularities going on in the region to draw the attention of the Ghanaian public and international and local observers monitoring the election.
"From all the reports we have received across the region clearly there has been an orchestration of intimidation, harassment, molestation and violence, which are all, we believe, intended to make it difficult for our polling agents to perform their functions effectively as well as preventing our supporters from exercising their franchise."
He mentioned places like Afrancho, Ejisu, Kwadaso among other communities were the alleged anomalies including burning of NDC vehicle and temporary detention of party's parliamentary candidate are going on.
Ohene Agyekum said the development in the region "undermines the very essence of the event that is taking place today", which he said also makes "mockery" of the exercise.
He is also asking party agents who are being threatened to desist from signing the result at the end of polling.
The Regional Chairman said the EC, the police and other relevant authorities have been informed about the situation in the Ashanti Region.
But Dr. Nyaho Nyaho Tamkloe, a leading member of the NPP, said he was not surprised by the NDC's allegations, which he said were ploy by the NDC to use "mayhem" to destroy the election during and after the election.
Story by Isaac Essel