Java volcano activity intensifies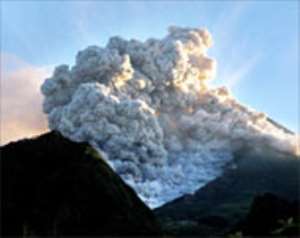 Clouds of hot ash, rock fragments and gas are surging down Merapi's slopes as activity at the towering volcano intensifies to its highest level yet.
One of the eruptions on Monday sent an avalanche of debris and ash rolling almost 4km down the mountain's western flank, said Ratdomopurbo, the region's chief volcanologist.
It was followed by several other huge explosions on the crater.
Villagers who had not evacuated their homes gathered on road sides along the slopes of the volcano, which rises from the plains of Indonesia's densely populated Java Island. They were told to stand by for evacuation.
Scientists raised the alert status to the highest level on Saturday after weeks of volcanic activity, and by Sunday more than 4,500 people living in villages closest to the crater or next to rivers that could provide paths for hot lava had been evacuated.
They are living in mosques, government buildings and schools.
About 18,000 others who live lower down the slopes of the 9,800ft mountain and were not considered to be in immediate danger, stayed behind.
It was not clear if that situation had changed as a result of Monday's activity, which did not cause any known injuries or damage to property.
Searing gas cloud
Merapi, which is one of 129 active volcanoes in Indonesia, sent out a searing cloud of gas that burned 60 people to death when it last erupted in 1994. About 1,300 people died in an eruption in 1930.
The deadly clouds of ash, gas and debris, known to volcanologists as pyroclastic flows, are the biggest worry for emergency services, said Sugiono, one of the scientists on a team monitoring the volcano 24 hours a day.
He said a glowing dome of lava being formed by magma forced to the surface was poised to collapse and could a trigger a surge in the clouds.
Locals call the clouds Wedhus Gembel, or Shaggy Goat Clouds, because they resemble tightly curled balls of wool as they avalanche down the mountain at speeds of more than 100km an hour.
"If you get stuck in them, then you have no chance," Sugiono said.
Many mystic beliefs are associated with the mountain.
On Sunday, Javanese holy men burned incense and floated offerings of rice, fruit and vegetables in a river that runs down the volcano's slopes - a special ceremony they believe will ward off an eruption.
Although most Indonesians are Muslim, many also follow animist beliefs and worship ancient spirits, especially in central Java province.
Often at full moons, they trek to crater rims and throw in rice, jewellery and live animals to appease the volcano.
Spiritual keeper
A pink bandana tied around his head and wearing a football T-shirt, 80-year-old Maridjan may cut an eccentric figure, but his views influence people in their decision on whether or not to leave the slopes of Indonesia's most dangerous volcano.
Scientists say Mount Merapi could erupt massively any time now. Government officials have told residents in its vicinity to evacuate. But Maridjan is the spiritual keeper of the mountain and the cheery old man does not think the worst will happen soon.
Maridjan is a symbol to villagers around Merapi, where Javanese mysticism and age-old traditions are defying logic and science.
He was assigned by the previous ruler of Yogyakarta, the late Sri Sultan Hamengkubuwono IX, as keeper of the mountain to look after the safety of villagers and Merapi's surroundings.
His village in Kinahrejo lies just about 6km from Merapi's peak, well within the mandatory evacuation area. But his refusal to leave has prompted other residents to stay in the village, where natural omens and spiritual insight from Maridjan are valued more highly than volcanologists' findings.
At Maridjan's house, a call for noon prayer from a nearby mosque is heard. Maridjan changes into a crisp batik and a sarong with matching black Muslim cap. He asked his guests to perform a communal prayer at the mosque.
"Most important is to pray," he said walking towards the mosque. Don't forget to pray. Pray for the safety and pray for Merapi to calm down."