African American Enstooled As A Chief In Ghana….his story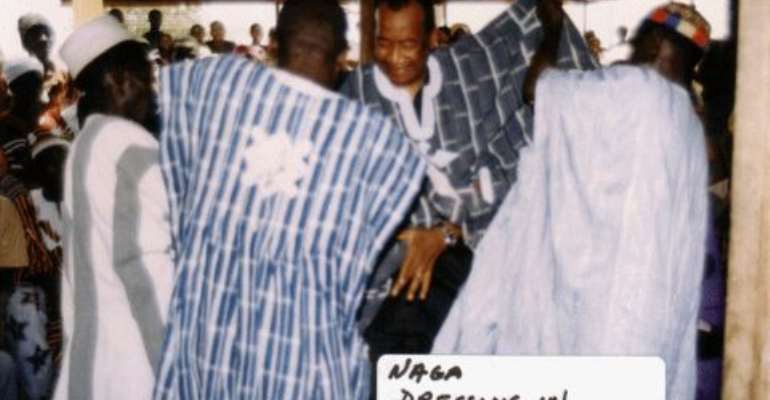 Prior to March, 2005, a Ghanaian friend told me of a school in the North Country – very remote- which needed printers. The school, he said, had an old computer and it would help if they could get a printer for the students. I agreed to buy/ship two printers. When attempting to ship them, however, I learned that it would cost about twice as much as the printers themselves (about $500.00), and worse it would take at least two to three months to arrive, presumably in good condition.
In March 2005, my wife decided to accompany me to Ghana because she had never been to Africa, wanted to visit the country, and see some of what I do*, as well as visit some important tourist sites. We brought the printers with us.
When we arrived at the Kpandai Secondary School, word had apparently preceded us and we were informed that the area had declared a holiday in our honor and a ceremony was held. We were told of the difficulties of the school…that it was lacking dormitory space for some of the girls and boys…that the government had no money to build……that the school (we learned later) placed in the top 10% of schools in Ghana. Touched that they would declare a holiday for us, we decided to share some of our modest resources and agreed to build the dormitory to house about 168 students; and pay for bedding (double-deckers) for both boys and girls.
The holiday involved a ceremony and they asked me to formally present the two printers! If you have never had a village turn out and dance for you, it is impossible to describe the feelings. It was at the ceremony that the Headmaster announced our pledge to build the dormitories. Joy, great pleasure and warm feelings abounded! My wife also announced that her college** was willing to arrange for a top student to study in her college in the US if the student would agree to return to Ghana upon completion.
Word got passed around of our pledge, by other Ghanaian friends who were visiting Kpandai with us. One thing lead to another and talk surfaced to offer me a chief designation. Another friend, also on the trip, is quite influential in his home village, Naga, and asked if I would accept Chief (Naga Koma Naaga) …no strings/commitment attached.
I accepted the installation in Naga in March, 2006.
Work is still underway to complete the dormitories in Kpandai, and my wife and I are eagerly awaiting news that the dormitories have been completed and the students are occupying them. We want to return to see the new dorms.
We began our visit to Naga from Accra early in the morning by SUV. My daughter and I, and my good friend George Agana and his brother Joseph (who would photograph and record the ceremony) were passengers, along with our driver. It took fifteen hours to arrive in Navrongo. We spent an overnight in Navrongo, because there are no rooms available in Naga. In the morning, we were all led to Naga. (One cannot drive directly to Naga. It is necessary to first go north to Navrongo and drive south to Naga.)
While overnight in Navrongo, a representative of the Chiefs and a member of the royal family, Dr. Charles Awini, who is the Chief Surgeon for the Police Hospital in Accra, and his brother, met with me to give an overview of the ceremony; to say that the elementary school students were expecting us, and that the Chiefs were also expecting me.
Appropriate gifts were brought for the Chiefs.
When we arrived at the Naga village, we were greeted by the village interpreter, some teachers, and representatives of the Chiefs.
Before the ceremony in the Palace, we were given a tour of some of the elementary schools in the area. Children were expecting us and many classes gave us a warm greeting, such as, "Welcome Mr. Scott, How are you, sir?" We toured many of the classrooms and spoke with as many students as possible. They were learning very useful and (sometimes) difficult subjects, such as elementary algebra; of course, English, and religion. Many of their notebooks were quite legible and neat. The equipment was old as were many of the booklets, however the government had recently shipped some new textbooks and several classes were using them.
The Installation Ceremony was (how can I know?) not long or short…with introductions back and forth between me and the Chiefs and speeches by one of the Chiefs; and I was invited to say something back to them. (I had been coached by Dr. Awini to 'say something from the heart' and not to read from a prepared text). I quickly learned how to pronounce their greeting and the Chiefs and villagers were both surprised and pleased.
It was very hot (I love hot weather) but when they placed the very heavy, thick Ceremonial Smock over my head I thought I might fall down! I didn't.
During the Ceremony the tradition called for the Chiefs to present me with a goat, which I was pleased to accept. Unfortunately, although Princess Amber wanted to bring home the goat, I knew that the airline would not cooperate and so I later gave the goat to my good friend, who has family and roots in Naga.
Toward the end of the ceremony dancers came to perform for me and it was a quite lively time. Tradition calls for placing paper money on the heads of the dancers. I learned how to do this somewhat.
The excitement, which I could feel from the moment we arrived, continued to build throughout the visit. The climax was an almost motion picture image of large friendly crowds, five or six deep, around our SUV, looking, smiling and reaching to shake Princess Amber's hand and the hand of the new Naga Koma Naaga.
I had several meetings back in Accra, following the Ceremony, with Naga representatives (Dr. Awini and his brother and a colleague from the Police Hospital. The purpose was to initiate discussions as to how we might bring investment money to the region, especially money for agriculture and housing.
I left an outline for consideration.
My firm does not have investment funds. We are brokers (i.e., and receive commission for bringing parties together).
The money we sent to build the dormitories and bedding in Kpandai came out of our own bank account.
If our friends in Ghana are able to work with me it might be possible to find the needed money to grow both important and appealing areas of Northern Ghana.
Jim Scott
Managing Partner
Jensco International