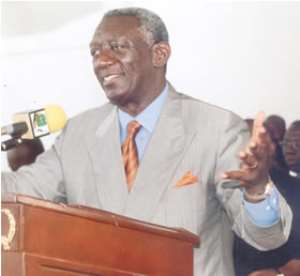 Accra, Feb. 16, GNA - President John Agyekum Kufuor has asked the Minority to reconsider their decision to boycott parliamentary proceedings and return to the floor of the House to debate issues relating to the Representation of the People Amendment Bill (ROPAB), his Press Secretary, told a Castle briefing on Thursday.
Mr Kwabena Agyepong said it was the view of the President that as representatives of the people they should debate their concerns with their counterparts in the House.
The impression should not be created that there was a controversy and that it was important that all should exercise restraint and respect each other's views. Tolerance and accommodation were the only way to move Ghana's democracy forward.
President Kufuor had already held closed-door discussions on the Bill with the Christian Council. The Council sought for explanation of the rationale behind the ROPAB that had generated so much political heat in the country.
Mr Agyepong took issue with the language and posture of some leading members on the Minority side during last Tuesday's street protest they organised in Accra, saying: "It does not suggest they are seeking dialogue. Politics should not strip us of the capacity to make fair and objective assessment of issues."
Mr Agyepong, who is also the Presidential Spokesperson, said it was important to respect the country's Constitution and this was exactly what the Government was doing by extending the right to vote to all citizens of the country.
"No group of Ghanaians could arrogate to themselves the right to determine for other Ghanaians the right to vote. The issue is not political but national in character", he declared.
He pointed out that although it was good to have consensus, it was not mandatory to have it on everything at all times.
Mr Agyepong said the concerns so far raised by those opposed to the Bill were purely administrative and could be sorted out at the Inter-Party Advisory Committee (IPAC) and other forums. These are not captured in the Bill.
The law has to be amended before details relating to the implementation could be dealt with.
He called for re-thinking among people, who held the view that the Bill was an electoral issue and as such should be left to the Electoral Commission (EC) to decide, saying, the Commission was not a law making body and that Parliament was the appropriate forum. 16 Feb. 06