Kufuor appeals for realistic expectations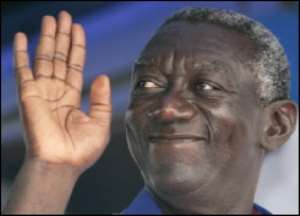 .... expect $1,000 per capita mark within the next 10 years Cape Coast, Feb. 7, GNA - President John Agyekum Kufuor on Tuesday called on Ghanaians to learn to manage their expectations realistically within the country's economy and not to give in to disappointments and cynicism. He said even as they were driven by their expectation, it was important not to overlook the fact that resolve, tenacity, sacrifice and confident patience were critical to sustain the collective drive to move the nation into the middle income status that they all craved for. "This country is on the threshold of a giant economic takeoff and it is up to us to pull together to exploit our opportunities on a sustained basis or lose them within the foreseeable future," he said in a statement at the People's Assembly held in Cape Coast. President Kufuor painted an optimistic outlook of the economy predicting that if the country should maintain its current growth direction, it would hit the 1,000 dollars per capita mark within the next 10 years. The economy has registered consistent growth since 2001. The growth rate, which was 4.2 per cent in 2002, moved up to 4.7 per cent in 2003; 5.2 per cent in 2004; 5.8 per cent in 2005 and is now around 6.0 per cent. President Kufuor said to achieve the targeted 8 per cent growth, government was focusing on three priority areas of human resource development, private sector development and continued good governance. The key to all this, he said, was education and that the Government's reforms of the education sector were to help to produce the skill manpower and capacity to achieve its set goals. President Kufuor said at the same time infrastructure development was proceeding at an enhanced pace to open up the country, citing the construction of arterial, urban and town roads to improve mobility as well as feeder roads to link farm gates with markets. He also spoke about rehabilitation, expansion and modernisation of the ports and harbours and the improvement in the intra-city and intercity mass transportation. Touching on the fast telecommunication sector, President Kufour said even though, the Government was excited about it, it was also unhappy with the poor quality of service.
He said the Government was, therefore, determined to use the regulatory powers of the National Communication Authority to address that.