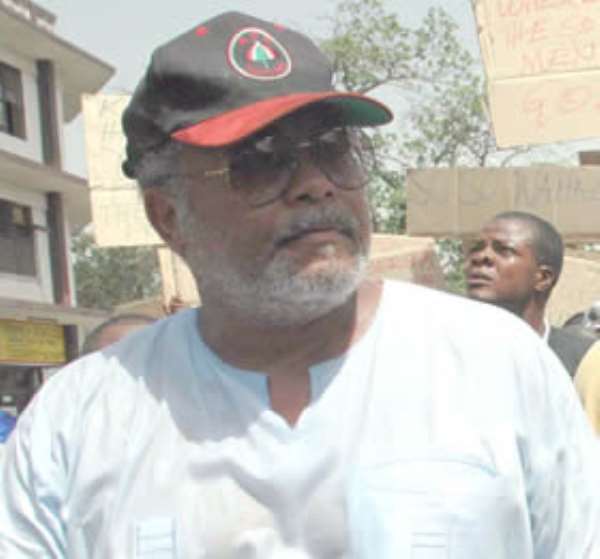 THE Chiefs and people of Ekumfi Ekotsi-Bogyano, a twin-town in the Central Region have named a road, linking the two towns, after Flt. Lt. J. J. Rawlings, as an expression of their gratitude to the former President.
The road was constructed 20 years ago, on the instructions of former President Rawlings, following a tragic accident, in which 33 citizens, including a queenmother, of the area, were crushed to death, by a reckless driver, who run int! o a procession, which formed part of their annual festival.
The only link between the two towns, was through the main Accra-Mankessim Road, where the tragedy occurred.
Upon hearing the news, former President Rawlings, who was then in China, cut short his visit and rushed back home, arriving in Accra late in the night. The citizens were surprised to find Jerry, the very next day, early in the morning, in the area, where he consoled the people and the bereaved families, in particular. He also visited the injured, at home, where his presence, served as tonic for early recovery.
He then ordered the construction of the by-pass link-road between the two towns. At the ceremony, organized by the people at the week-end to mark the 20th anniversary of that tragedy, the people could not help but recall the deep concern and compassion shown by the ex-President and expressed their gratitude to him.
According to a citation read at the ceremony, that gesture by the ex-President remains as an indelible mark of honour, in their minds. A former Ghanaian envoy and a Central Regional Minister, Mr S. F. Akyianu, who stood in for former President Rawlings, expressed his appreciation for the honour done to the Ghanaian leader and the recognition of his natural humanitarian nature.
Mr Akyianu referred to many achievements, which stand in the name of former President Rawlings, but whose credit is being claimed by his opponents. One such project, he said, is the FCUBE system, which was initiated by the NDC but which the then opposition frowned on, and yet it is now brandishing like a winning trophy.
Mr Kuntu-Blankson, MP for Mfantseman East, donated an amount of ¢4 million to the Town Development Committee and also paid for the cost of the supply of electricity meters to the citizens, from his share of the Common Fund. Meanwhile, plans are afoot to build a monument, a suggestion by former President Nkrumah, in memory of those, who died in the accident. The driver of the killer-truck, was tried and sentenced to death.