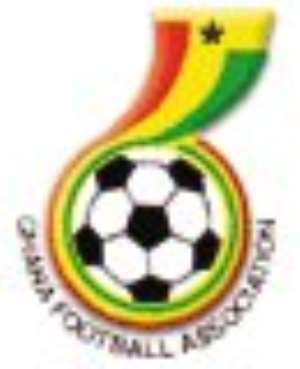 Accra, Sept 01, GNA - The Ghana Football Association (GFA) and the Federation of International Football (FIFA) on Wednesday signed a 500,000-dollar agreement under the "FIFA Goal Project II" scheme for the construction of a new office complex for the association.
FIFA, under the agreement, is expected to contribute the usual 400,000 dollars it gives to a country that qualifies for the Goal Project II with the GFA providing the remaining 100,000 dollars. Mr Sampson Kablan, the FIFA Development Officer of the "Goal Project" in West Africa signed for the world soccer governing body whilst Mr Kwasi Nyantakyi, the Acting Chairman of the GFA, signed for his association.
At the same ceremony, GFA and FIFA, whose duty now is to supervise the construction, signed another agreement with Pro-Arch Development Consultants and Jebs Engineering Services, the consultants and contractors respectively of the project that will take eight months to complete.
Under the terms of the agreement, the GFA is to forward the 100,000 dollars to FIFA who will pay directly into the accounts of the contractors.
Mr Kablan said the successful completion of the FIFA Goal Project 1, which was for the construction of the 800,000-dollar "Ghanaman Soccer School of Excellence" at Prampram, was the deciding factor in allowing the GFA to access the funds for the second project named "The Goal II". He said though many other African countries applied for the Goal Project II, only Cape Verde from the sub region has been able to access the fund.
Mr Kablan said the FIFA Goal Project is aimed at bridging the gap between the advanced European countries and the under developed nations in Africa, Asia and South America.
Mr Nyantakyi said the building would have a 150-seater conference room and that the GFA would raise its share of 100,000 dollars in the project with funds from sponsors.
FIFA, as apart of its efforts to develop football infrastructure in its affiliated associations, gives 400,000 dollars from a development fund dubbed the "Goal Project Fund".
Ghana has already benefited from the FIFA Goal Project One that was used to build an 800,000-dollar "Ghanaman Soccer School of Excellence" at Prampram.
In the "Goal Project 1" the government of Ghana contributed 226,000 dollars in the form of already existing structure at Prampram with the GFA providing 174,000 dollars in addition to the FIFA Goal Project fund of 400,000 dollars.