MBA Admission 2018 at VIT Business School Vellore, Chennai Campus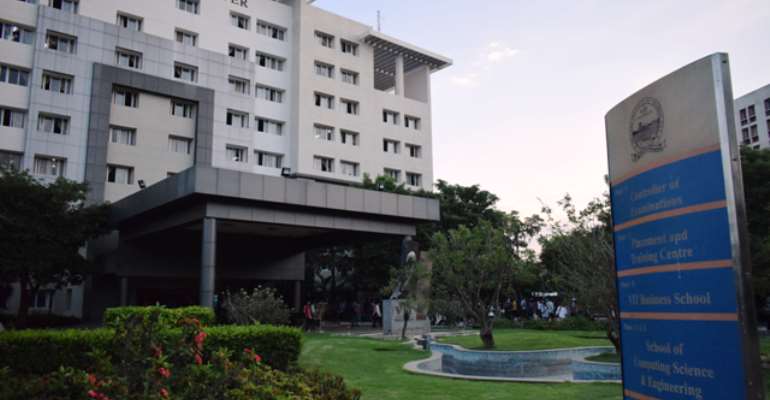 The Business School of VIT Vellore, one of the most popular and sought after College in India among the leading Universities in India, has opened it applications for the MBA Program. VIT is first and only Indian Business School to get the 4-STAR rating from QS, the International University Rating Agency. The VIT is the winner of the prestigious national award 'University of the year- 2016" from FICCI.
VIT ranked 17 in consecutive year 2016 & 2017 in NIRF MHRD Ranking in Management Category and ranked 13 in consecutive year 2016 & 2017 in NIRF MHRD Ranking in Engineering Category.
The 2 year MBA is offered out of the Vellore and Chennai campuses. Students can choose a range of elective subjects from areas such as Finance, Marketing, Human Resources, Technology and Systems, International Business, Operation, Information and Business Analytics. Intake happens through CAT/ XAT/ GMAT/ NMAT/ MAT/ CMAT. The selection is based on the total evaluation consisting of academic performance, test score, experience, written ability test and interview.
Campus, Infrastructure and facilities: The university's main campus in Vellore is situated in a 300 acres of land and is a city in itself with lake, gardens, lawns, residential complexes, food courts, hair salons, vehicles plying in the wide roads from one building to another, own water supply and backup electricity supply along with shopping complexes, auditoriums, state-of-art-infrastructure, libraries, research labs set up in collaboration with by MNCs to cater to the needs of 30 thousand and odd students residing inside.
Hostels: The hostel area includes an outdoor stadium, swimming pool (separately for men and women), basketball courts, badminton courts, squash courts, tennis courts and an indoor stadium with table tennis and badminton courts. The eighteen hostels accommodate students in single, two and three, four and six bedded rooms with AC and non-AC option.
Last Date for Applying: Mar 15th, 2018.
Eligibility:
A minimum of 60% marks is required in undergraduate degree from a recognized University or Institution.
The Bachelor's degree should be of minimum 3 years duration after completion of higher secondary education (10+2) or equivalent.
The candidate should have studied in regular full-time programmes.
The candidate appearing for final year examination in the current academic year, whose results get published before August, is also eligible to apply.
Relevant work experience will be an added advantage.
Selection Procedure: Selection will be, inter alia, based on valid CAT/MAT/XAT/GMAT/NMAT/CMAT, previous academic performance, industry experience, writing ability and the performance during the personal interview. Weightage is distributed in the admission test score, previous academic records, work experience if any and performance in WAT (Written Ability Test)/ GD/ PI and soft skills.
Application Fees: INR 1121
How to Apply: Candidates can apply online at VIT website (http://www.vit.ac.in/academics/schools/vitbs )