FIFA to watch Black Stars Game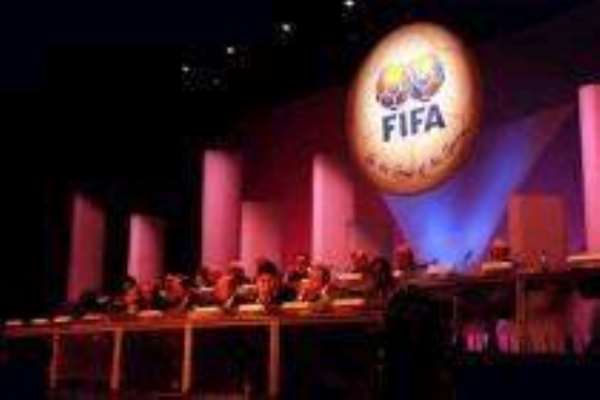 The SA Football Association (Safa) has reported FC Copenhagen to world football governing body Fifa following the Danish club's refusal to release midfielder Elrio van Heerden for the crucial World Cup/African Nations Cup qualifier between Bafana Bafana and Ghana on Saturday. Van Heerden, who has represented Bafana on seven occasions, was named in the 20-man squad last week and by Tuesday morning he was the only player yet to report for camp. This will without doubt hamper Stuart Baxter's preparations for this important game.
And with Manchester United midfielder Quinton Fortune "not hundred percent fit" the coach was clearly agitated by the Danish club. The England based midfielder arrived in camp on Monday but the coach hinted he might not be ready for the game.
Add to that the unavailability of top striker Benni McCarthy, which means Baxter will have to use Germany based winger Delron Buckley as a striker. Buckley has played as a striker at his former club Armenia Bielefeld where he scored a total of 15 league goals last season. However, at national team level was mostly used as a winger. Overall, Buckley has scored eight goals in 57 international matches.
Baxter's decision to play Buckley as a striker could have been strengthened by the player's performance in the qualifier against ape Verde, where he scored a stunning goal to give Bafana a 2-1 win.
"The coach spoke to me yesterday (Monday) and asked if I would interested in playing alongside Shaun Bartlett and I quite happy to do that. I have played as a striker for my team in Germany and I am happy to play anywhere in the field," said Buckley.
The Bafana coach has already had a fair share of mishaps to deal with in the build-up to the Black Stars clash. First-choice goalkeeper Hans Vonk was ruled out with a troublesome back injury with Bradley Carnell also giving in to an ankle injury.
In naming his squad, Baxter had clearly not anticipated these problems with his focus more on the attack. The national coach named two strikers - Siyabonga Nomvete and Sandile Ndlovu - on standby in case his experienced striker Shaun Bartlett was, for some reasons, to miss the game.
Bartlett looked fit and ready to go and it looks like Baxter will have to juggle his midfield around while goalkeepers Rowen Fernandez of Kaizer Chiefs and SuperSport United's Calvin Marlin have three more days to make an impression on the coach as they scramble for the number one position in the team.
In all Bafana have met Ghana on six occasions since 1994 winning three, drawing two and losing just once.
Meanwhile, Safa has joined forces with the Gauteng Province in a bid to get more supporters to the stadium for the Ghana fixture. The match will be televised to the Fifa executive members attending the Confederations Cup, which kicks off on Wednesday in Germany.
A poor turnout, as it was the case against Uganda, could cast some doubts about the local supporters' passion for the game. The Provincial government will use over 400 busses to bring in children to the stadium.
"What a better way for the children, combining with Youth Day, to see the national team playing here and hopefully qualifying or getting closer to qualifying for 2006!" said Safa CEO Raymond Hack.
The Safa CEO also disclosed that the ticketing system would be changed with tickets now available at Post Offices around the country and not Computicket, as it was the case in the past. The new credit card-like tickets, according to Hack, will also speed up the process of getting the supporters into the stadium, cutting down the long queues that were a direct result of manual counting at the turnstiles.
"The provincial government sees itself having a duty, in the run-up to 2010, to be promoting and supporting soccer in our province and to be supporting the development of spectators in our province," said MEC for Sport and Recreation Barbara Creecy.
"By the time 2010 comes we have to ensure that we have full stadiums and that we have South African spectators who are orderly, well-behaved and come to the game because they understand football and they have the love of football."