Asamoah Gyan To Miss Match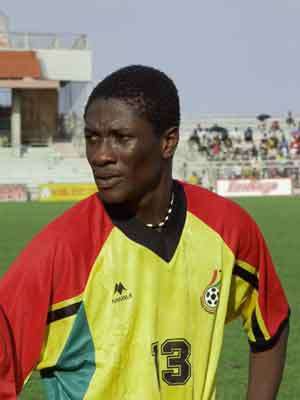 Black Stars captain Stephen Appiah is well aware of the gigantic responsibility thrust on him to fulfil the aspirations and dreams of Ghanaians who believe that Ghana must make it to the 2006 FIFA World Cup at all cost.
As the World Cup qualifiers hit the homestretch this weekend, Appiah has marked out the Bafana Bafana as the major stumbling block to their ambitions, and as a result will lead an all-out assault on the Bafana Bafana in a determined effort to reclaim the top position of Group 2.
In a confident and determined tone, Appiah predicted Bafana Bafana's fall on home soil and promised to be the principal architect of that plot in Johannesburg on Saturday. "The South Africa match will be the decider and we are going there to win and eventually qualify for the World Cup," he told Graphic Sports in an interview.
In spite of the confidence, there is real cause for worry following the withdrawal of three strikers as a result of injury, while uncertainty hangs over the fitness of trusted goalkeeper Sammy Adjei who injured his right knee at the team's first training session last Friday.
Not since the Tlemcen fiasco in 1993 have Ghana's World Cup hopes been raised so high, despite the fact that the country trails South Africa and DR Congo in the group standings. And the national resolve to see Ghana at the summit of world soccer is being pursued with a no-expense-spared approach to motivate the playing body and technical staff to achieve another famous victory over the Bafana Bafana.
An unprecedented mouthwatering incentive package is being dangled before the team to get their adrenaline levels high in order to win Saturday's qualifier. A victory over South Africa at the FNB stadium will guarantee each player $8,000 (about ¢72.8 million) as winning bonus, in addition to camping allowance of about $1,000, put together by the government and the team's sponsors, Gold Fields Ghana Limited.
Tucked away in the high altitude of Naivasha (108 Km from the Kenyan capital of Nairobi), away from the prying eyes of the media, the Stars could not have been provided with a more serene atmosphere than at the plush holiday resort camp of Lake Naivasha Simba Lodge, to plot a winning strategy.
Nairobi proved an ideal training camp for the Stars before they played DR Congo last March and this time Serbian coach Ratomir Dujkovic is hoping that pitching camp in a higher altitude for over one week would be the perfect location to improve the players' physical conditioning ahead of the grudge match in Johannesburg.
With nearly the full complement of his players in camp, coach Dujkovic is hoping that the return of Michael Essien and Sule Muntari, both of whom missed the Stars' 2-1 victory over Burkina Faso in Kumasi, would provide the needed firepower to ensure that the team fires on all cylinders on Saturday.
Essien, Joetex Frimpong and Russia-based Laryea Kingston and Baba Armando were all expected in Kenya last night
Essien, Muntari and Appiah were the principal architects of the Stars' emphatic 3-0 drubbing of the Bafana Bafana in Kumasi , and exactly a year later coach Dujkovic will fall on the talent and experience of the trio and new revelation, Nigeria-based Joetex Asamoah Frimpong, to power the team to another famous win that would put Ghana's best foot forward in the World Cup journey.
The crystalball points to a good harvest for the Stars, especially as Bafana Bafana seem to be grappling with an injury crisis with many top players injured ahead of the epic encounter.
Since the Black Meteors chalked double victory over the Amaglug-glug in the Athens Olympics qualifiers last year, Ghana's worst performance against South Africa at any level has been a draw both home and away. This time, the Stars hope to ride on their luck and shine brightest on Saturday. Ghana has exorcised the South African ghost that once haunted the national teams.
While Olympique Lyonnais midfield powerhouse, Essien, easily the most wanted player on earth today, will be the cynosure of all eyes, Joetex Frimpong is, perhaps, the team's best kept secret that will be unleashed on Stuart Baxter's team.
Both coaches have similar worries, though. Coach Dujkovic is also concerned about a worrying casualty list that includes the Gyan brothers, Baffour and Asamoah, Denmark-based striker Kwadwo Poku who are all receiving treatment in their European bases.
Another big blow struck first-choice goalie Sammy Adjei whose leg is in Plaster of Paris (POP). That freak injury has compelled coach Dujkovic to invite Ashantigold's George Owu as a cover, but Dr Martin Engmann is confident that Adjei could recover in time to make it for Saturday's game.
And the absence of injured defender Kofi Amponsah and suspended Emmanuel Pappoe is expected to be made up for by Asante Kotoko centre-back Gabriel Issa Ahmed and Dan Edusei.
With a typical boldness of a gambler, South Africa's British coach is gambling on some 'old soldiers' in an attempt to deal with a growing list of casualties like suspended Benni McCarthy, injured Sibusiso Zuma, first-choice goalkeeper Hans Vonk, left-backs Bradley Carnell and Cyril Nzama.
Coach Baxter has reportedly put veteran goalkeepers Andre Arendse and Brian Baloyi on stand-by while he his hoping that striker Shaun Bartlett and midfielder Quinton Fortune will both regain match fitness for their so-called "payback time".
In plotting a revenge of their 3-0 loss in Kumasi, Baxter says the Stars will face a "different Bafana team" in Johannesburg. The difference is reflected in the absence of striker Siyabonga Nomvete, Mark Fish and gangling striker George Koumatarakis who looked out of sorts in Kumasi.