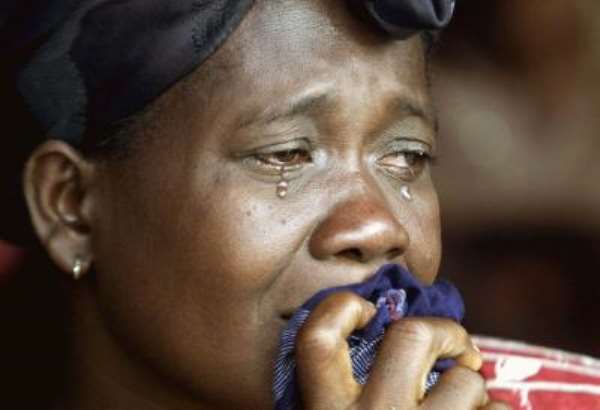 Factionalism has finally sent Accra Great Olympics to the "grave" following their uninspiring output last Sunday which left them dropping two valuable points in their league game against visiting Real Sportive at the Accra Sports Stadium.
Olympics who needed a win to survive relegation settled for a one all drawn game to visit league wilderness for the first time since their participation in the elite Premiership.
The "Wonder Boys" who by the result emerge as the biggest casualty in the season, struggled to stamp their authority on the game only to allow the league debutants to keep their heads above the relegation waters to earn the crucial point.
The beauty of the game which many considered to be one of the most competitive duel sold out in recent times was almost marred by apathetic officiating by referee Justus Agbeko who struggled with his decisions all day.
It was however the Skipper of the visitors, Yanus Raman who defied the disturbing signals to strike the lead on the stroke of half time though their host had the better part of dominance upfront.
Raman profited from a lousy marking from the Olympics rear marshalled by Mohammed Numo and company to connect a Sportive cornerkick with a volley which saw goalkeeper Theophilus Mensah crawling on the turf to end the half.
Both teams resumed from the break with fair dominance in the midfield but occasionally failed with their attempts at goal that left the scanty but vociferous Olympics supporters screaming for the equalizer which finally came their way on the 58th minute mark. Alas, the equalizer from unmarked Winfred Dormon who led the attack to keep Sportive's goalkeeper Laud Quartey, the most busiest player on the pitch before the interval could however not translate the opportunity to fetch the required all important goals as the supporters thought.
Inspired by the goal, Olympics continued to probe for more and for a moment they managed to unsettle their resilient opponents with consistent onslaughts in their last quarter, a situation that peeped their expectant fans to cheer unstoppably.
With the pendulum of action tilting from one end to the other, it was substitute Osei Bonsu who gifted from a well-taken cross from Paa Joe Kumah from the right flanks only to miss an -easier -to score than miss chance with only six minutes of play.
Sportive sensing danger withdrew from their shells and battled the home side at every department on the field to hold tight unto their crucial point till the end of proceedings.