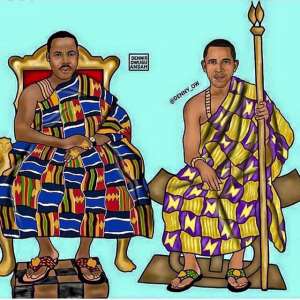 Akomference, the Kumasi based national umbrella organization for practitioners of Ghanaian traditional spirituality and healing ( AKOMFO) has sent message of congratulations to the legacy of Dr. Martin Luther King Jnr to Black Diaspora and the world.
Making the call through the phone to Begyedom Katakyie Akyampon of New York, Nana Kwabena Abrebrese aka Komfo Abass, Nana Kwame Subun aka Nana Kudi, Nana Kwame Baafi, Nana Fofie of Bomso, Nana Afia Oboutabiri, Nana Akonnedi Komfopanin Ataa and Nana Kojo Boateng aka Dumgya Komfo, all Executives of the organization spoke highly of the efforts, the struggle and the true legacy of Blacks fighting for emancipation, freedom, true rights and recognition as empowered people.
They also called on all Black people to continue the struggle to fight for equal rights and justice in America and all the Black Diaspora. They called on all Black people irrespective of religious affiliation to unite as one people and work together towards the common good of all. They called on Black people to encourage their children to embrace the culture and practice cooperative economics. They advised all Black people with the resources to visit the continent and possibly invest in it. They believe that when the Black Diaspora visit the continent, they are not only connecting to their roots but also learning first hand what Africa is and to help do away with all the stereotypes associated with the continent.