Why we should keep encouraging volunteers into Africa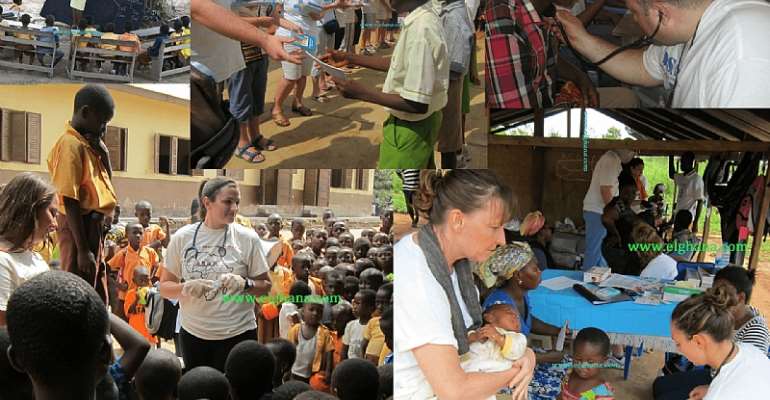 Over the years working for Sem-Fronteiras non-profit, I have come to know changed lives of many people because of the encounter they had with a volunteer from abroad. From the places the volunteers work, to the host families, the communities they stay in and the places of interest the volunteers visit, I have more than one story of a person in each of these places whose lives changed and impacted positively because of the chanced meeting with volunteers from abroad. Lives changed for what would never have been the case if not for that encounter.
Many volunteers have found their way to Africa through places like www.elghana.com which is our webpage listing some of our volunteer opportunities in Africa and mission trips. They have contributed to the local economy and local families through their spending, buying of arts and crafts and going out to local restaurants, events and places of interest. They have worked supporting many rural schools, orphanages and healthcare clinics in places where there might be only a midwife and a local person the midwife trains.
Some local children have been sponsored through higher education and college by volunteers they met. Some young people got capital to start a business or local trade. Many mothers in poor communities have received financial help to start petty trading and some people have found love and married some volunteers, living happily ever after. All these people have improved their lives and are in positions where they are able to trickle down help and support to many people still at the local communities.
There are occasions people have argued some volunteers actually are a nuisance more than good. And others have been uncomfortably challenges by the new cultures seen from volunteers from abroad. But I have always said and seen the positive in every single volunteer I have had. The mere encounter of a foreigner in that local village sparks inspirations and dreams. I have several examples and testimonies, some of which you can read from our webpage at https://www.elghana.com/volunteer-in-africa
The other observation is that over time, we are seeing efforts by a few professional associations to make the process more costly for volunteers to volunteer in Africa, in their attempt to tap resources for their operations. I must quickly say before i explain myself further that all professional bodies and staff, just like virtually every single person in the countries our volunteers are placed in, have been very hospitable, welcoming and understand that volunteers are not taking their jobs from them, and appreciate their help immensely.
But the associations and even local people are filled with the notion that people who travel from abroad to volunteer in our poor countries are rich people and we must find ways to take more money from them to meet our needs. For instance, for somebody volunteering their service as a doctor, or nurse they have to send in their license so the local regulatory bodies can verify they are truly trained and in good standing/practice, which is a good system. However some regulatory bodies will require each volunteer or our organization to pay $300 and more to the regulatory body for a permit to volunteer in the country, regardless of the role the volunteer will be playing and in the full knowledge that the volunteers do not come to Africa to work for pay, they are volunteering their service, time, training and skills free.
At the points of entry, we have had to pay duty on some basic items volunteers bring to donate to hospitals, orphanages or local schools. This is not encouraging; it does not show we welcome them wholeheartedly. It does not show that we need them, though i know we do welcome and need them a lot.
To some local organizations like us, the literacy projects, scholarship for children, free healthcare and medication for rural folks without a health center and many of the programs including our operations are sponsored partly by fees volunteers pay to us which also cover insurance, accommodation, meals, transportation, visit to places of interest and all the support and services we provide volunteers. More information at https://www.elghana.com/volunteer-opportunities or https://www.elghana.com/mission-trips or https://www.elghana.com/volunteer-in-africa
The true fact is that most people coming to Africa to volunteer are not from the rich and worthy homes abroad. They are people from middle class home; most of them are students who have taken loans to study or young graduates who are yet to find jobs to pay off their loans.
We sure must find ways to even make volunteering free for them, but there is also the evil of depriving the local people the programs and funding which come from our money. So do you choose to raise money and put the money into the local poor communities or to support a volunteer travel to volunteer in Africa? The lesser of the two evils is to appeal to the volunteers to pay fees to support our operations and their stay.
And we make sure to return value for that spending by giving the volunteer a great adventure, cultural immersion and broadened horizons, adaptability and creativity skills; Keys that can make them more valuable to employers and successful in their lives in pursuit of competitive opportunities in their countries. By this, the volunteer know that beyond the self-gratitude of such trips, they can in someday reap what they sow and further, in return, we are able to make a difference in the lives of our communities.
I discuss this issue and others at our blog page which is under Impact Stories, click on recent updates, or copy and paste this ling url: https://www.elghana.com/volunteer-abroad/volunteer-opportunities-volunteer-in-africa/
I hope to those of us in Africa, to each and every one of us, we can keep encouraging volunteers to keep coming to Africa. It sure is making a difference in the lives of a lot of people who many of us never encounter, people who are remote and much poorer communities with little to no hope of breaking away from all the troubles they face daily. Volunteers have always enjoyed our hospitality; Let us let them know that we appreciate the role they are playing in changing lives of many people within our poor communities. Let us salute all those brave ones who make a backpack and take on the trip to unknown places in our dear mother Africa to offer their help the way they can.
My name is Agyapong Gyamfi, the head of operations and projects for the non-profit Sem-Fronteiras receiving and working with volunteers and groups in Africa in Ghana, Zambia, Kenya and Uganda. You can find our Facebook page at www.facebook.com/volunteersinafrica