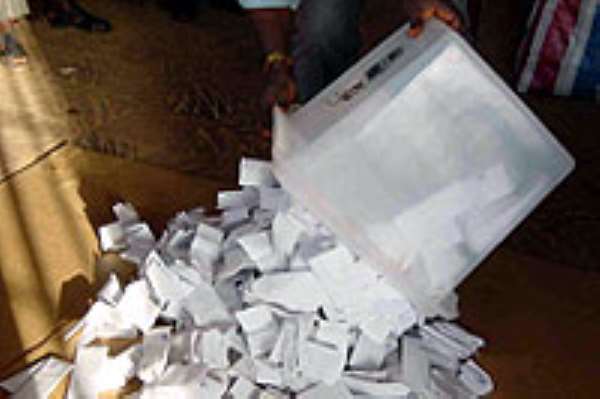 Kumasi, Oct 31, GNA - Mr Steve Opoku-Mensah, Deputy Ashanti Regional Director of the Electoral Commission (EC), has stated that the EC and the public have the right to demand concrete proof of any allegation of doctoring or cooking up election results.
He said candidates could add up their own scores and challenge the authenticity of the results declared by the EC if the two results were different.
Mr Opoku-Mensah was presenting a paper on: "From Voting to the Declaration of Results" at a day's Ashanti Regional Election Observers Training of Trainers Workshop of Centre for Democratic Development (CDD)/Coalition of Domestic Election Observers (CODEO) in Kumasi at the weekend.
The workshop equipped the election observers to develop attitudes like impartiality, credibility, reliability and independent mindedness among other things and to communicate the vital aspects of the observer's responsibilities.
Mr Opoku-Mensah indicated that the process leading to the declaration of the final results of both the presidential and parliamentary elections were thoroughly decentralised and transparent. He said: "In the case of a presidential election, the results are first declared at the 20,000 polling stations, then at 200 constituency centres and next at the 10 Regional Capitals before they are finally transmitted to the EC's Head Office in Accra."
The Deputy Regional Director said a well-organised political party or candidate might have all the results forms from all the relevant polling stations, constituency centres and regional capitals well before the Commission announced the final results.
Dr Baffour Agyeman-Duah, Associate Executive Director of CDD, asked the participants not to interfere in the election process without the consent of the presiding officer of the EC.
He urged them to let loyalty, objectivity and neutrality be their guiding principles, adding that CODEO had great confidence in them and that without them; the objective of the organisation would not be attained.
Mr Thomas Abdulai Boateng, Ashanti Regional Co-ordinator of CODEO, urged the observers to be very neutral and to report the truth on the Election Day.
He announced that a total of 1,069 monitors and observers would be trained at the district levels at 10 zonal centres, stressing that the zones were derived from the combinations of adjoining districts. Mr Johnson Adu, a Resource Person, advised the observers not to expose themselves to dangers on the Election Day. He urged them to work assiduously to report accurately on all that would transpire at the polling centres.