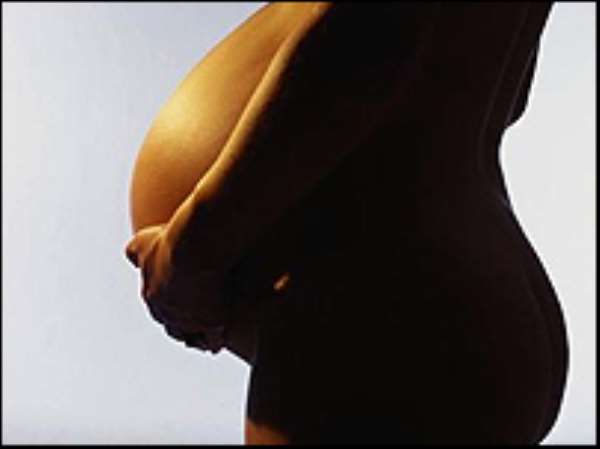 The 2003 Demographic and Health Survey (DHS) for the country has estimated that there has been an increase in infant mortality since the last survey in 1998. In 1998, the ratio of infant mortality was 57 children per 1000 live births, whereas the 2003 survey revealed an infant mortality ratio of 64 children per 1000.
Similarly, for children under-five years, the rate of mortality per 1000 births increased from 108 to 111 for the same period. The survey also indicated that the increase in the mortality rates negated the childhood mortality decline recorded in the two previous DHS conducted in 1993 and 1988.
In these, under-five mortality rates per 1000 live births were 119 and 155 respectively. Similarly, in 1993 and 1988 infant mortality rates per 1000 live births were 66 and 77 respectively.These details were made known to journalists during a dissemination seminar on the 2003 DHS survey in Accra yesterday.
The survey, which was conducted by the Ghana Statistical Service (GSS), in collaboration with the Nogouchi Memorial Institute for Medical Research and the Ghana Health Service, with technical assistance from ORC Macro International, covered all the 10 regions of the country over a 15-month period.In all, 6,251 households were interviewed. The number of women interviewed was 5,691 while 5,015 men were interviewed.
On childhood immunisation coverage, the report said 69 per cent of Ghanaians aged 12-23 months were fully immunised while five percent received no vaccination at all. Commenting on the report, the Minister of Health, Dr Kwaku Afriyie, in a speech read on his behalf, noted that gains made in checking infant mortality since Independence, were getting eroded.
He said although this came as a surprise in the face of tremendous effort in health care, it should be noted that "improvement in mortality statistics depend not only on improvements on health care but also on life choices, as well as on wider socio-economic environment, sanitation and poverty".
He said the Ministry of Health and the Ghana Health Service had called for the establishment of a high powered team of experts to study the reasons why despite improvements in health, social and economic indicators, infant mortality rate continued to worsen.
The survey also indicated that although the use of contraceptives by married women had increased from 22 percent in 1998 to 25 per cent in 2003, fertility rate was still 4.4 children per woman.It said rural women had nearly twice as many children (5.6 children per woman) as urban women (3.1 children per woman) with the Northern Region having the highest fertility rate of 7.0 children per woman.
Whereas 31 percent of women in urban areas were found to have used contraceptives, 21 percent of rural women used contraceptives. Fertility rate for women with no education was 6.0, while women with at least secondary education had a fertility rate of 2.5.The data also indicated that overall, 16 per cent of births in the country were unwanted, while 24 per cent were mistimed.
The percentage of unplanned births declined from 42 per cent in 1993 to 38 percent in 1998, but increased to 40 percent in 2003.The prevalence rate of HIV/AIDS was found to be just over two percent. According to the survey, 2.2 percent of Ghanaian adults are HIV/AIDS positive, with women having a rate of 2.7 as against 1.5 percent prevalence rate among men.
The report said awareness of AIDS was almost universal in the country and acceptance of people living with AIDS was also fairly high with more than two-thirds of women and men aged 15-49 willing to care for a family member with HIV in their household.
This was the first time population-level HIV testing was included in the Ghana Demographic Health Survey.
The Government Statistician, Dr Grace Bediako expressed appreciation to United States Agency for International Development (USAID),the Ministry of Health and Ghana Health Service, ORC Macro International and the Noguchi Memorial Institute for Medical Research for supporting the survey