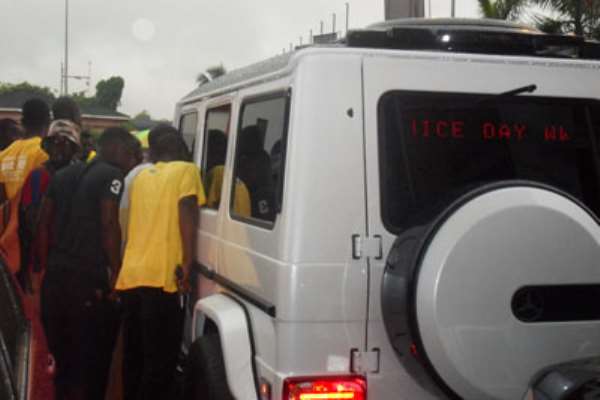 Business tycoon Kennedy Agyapong aka Kenpong has added yet another high class customized four wheel drive to his fleet of automobiles.
In the beautiful hand-woven dashboard and leather seats with an ipad that controls the sound system, is a 40' flatscreen TV fixed at the back seat with a Dstv satellites dish.
The 24' sporty suspension rim vehicle with a turbo exhaust has a high profile stereo system also in built according to the businessman's specifications.
It was spotted at the Accra Stadium when the Black Stars hosted their Mauritius counterparts on Sunday with many soccer fans rushing to catch a closer glimpse.
At half time, most of the fans were seen taking pictures of the black and white interior rugged 4×4 vehicle.
Often times used by stars like Mayweather and Jay Z in the western world, soccer fans made it difficult for the businessman to move the vehicle through the thick crowd after the game.
A fan remarked 'This is one of a kind, I have seen G-Wagons but this one is different.'