Professor Akwesi Asabere-Ameyaw honoured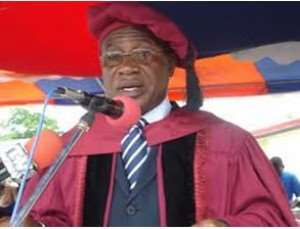 Winneba (C/R) May 17, GNA - Professor Akwasi Asabere-Ameyaw, Vice Chancellor of University of Education, Winneba (UEW), has received the 2014-2015 National Union of Ghana Students (NUGS) UEW branch Excellence Award.
This was due to his general contributions in making the 'university a university 'as they strive to sustain their achievement as the first teacher-education university in Ghana and sub-Saharan African.
He received a citation which stated that, the students sincerely appreciate him for his excellent and illustrious care as Zoologist, Educationist and a humble leader.
The award took place at an awards night at the Jophus Anamuahs-Mensah Conference Centre at the North Campus of UEW, Winneba.
The programme was on the theme: 'Dedication and Dignity; The Means to Academic,' was jointly organised by UEW, Students Representative Council and the local NUGs branch.
Prof Asabere-Ameyaw thanked the student for the honour than him and asked God to continue to showers his blessings on them.
The organisers also presented citations to the Academic and Students Affairs of the University for their support at transforming the university to become an excellence teacher education institution in country.
They also awarded best student in each of the departments from level 100-400, best student leader, best innovate student, best student activist, best sports personality (male and female), best athlete (male and female) and best and hardworking labourer.
GNA