Comment: No tears for Didi Dramani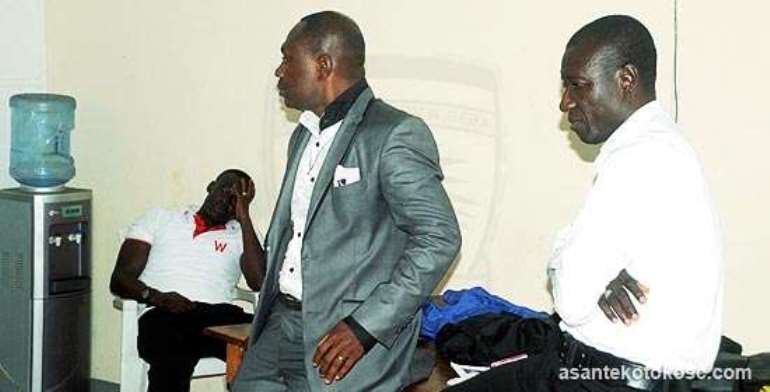 The die is cast. We are no longer in a position to find any more excuses for Asante Kotoko's dismal showing in the league. The blame must squarely be put on the shoulders of Coach Didi Dramani. There is concrete evidence to show that his tactics are fading fast and especially his final selections always leave room for suspicion.
In sum Asantekotokosc.com would shed no tears for the coach if he is relieved of his post. The way the club has started the league in its 80th anniversary is woeful. Eight points in a possible 21 is nothing to cheer home about. This is the time to halt the rot before it gets cancerous.
It has become difficult to say a word in favour of the coach. The fine coach is increasingly becoming unpopular within the club he has guided to two league trophies and an FA Cup, which was remarkably won alongside the league trophy last season. Coach Didi, undoubtedly is one of the finest coaches in Ghana.
But as with football, there comes a time when things take a wrong turn and a coach can't escape blame no matter his competence. Kotoko have lost two matches on the trot coupled with the fact that, the performance of the team in almost every match has been unimpressive. If it were any other club, that would have been no news but this is Kotoko we are talking about.
For a club that has very high standards and fans who expect nothing but the best from the team, the emerging trend where the team doesn't play to expectation is disturbing. We hold Coach Didi responsible for that, much the same way as we have given him credit on numerous occasions in the past for his good work.
Asantekotokosc.com's office has for the past one week been inundated with telephone calls from worried fans seeking to know exactly what has hit the club. We have been searching for answers to the endless questions. It is clear that, player commitment is quite low despite the good efforts by management to ensure that, what is due the players are given.
We believe strongly that, Coach Didi is losing it. He has no option than to change his ways or gracefully bow out. We initially didn't want to accept the view that, Coach Didi wasn't listening enough and observing well especially with regard to his selection.
This is Kotoko. When it gets to times like this, when supporters come at you, questioning your selection for almost every game, it simply can't be that, they are wrong and you are right because you are the coach. The fans are major stakeholders at the club and their views can't be taken for granted. We admit that, football fans can be difficult in dealing with and especially at Kotoko the supporters are known to be very complex.
But only a few months back, these same fans who want the coach sacked clamoured for his re-engagement. If today, they are calling for his dismissal, it clearly shows their confidence level in the coach. Let's just give two examples where we believe, Coach Didi lost the plot.
We closely followed the Kotoko-Hearts game. We felt that, Coach Didi's choices in defence were not the best just like some of his decisions in the Ashgold-Kotoko game regarding the use of Emmanuel Asante, Eric Donkor, Akwasi Acheampong and Amos Frimpong who were put in most unfamiliar positions. It is difficult to understand why for example, Coach Didi continues to field Amos Frimpong at right back, when Atta Kusi idles.
Amos in recent times has proven to be one of the best in central defence. Our observation is that, certain decisions by Coach Didi have contributed to the team's weaknesses in central defence. Amos Frimpong admittedly is a versatile player but at the time that our central defence lacks more of Abeiku Ainooson's quality, Amos Frimpong is the most capable player to partner Abeiku Ainooson or in fact, new signing Ahmed Adams.
We know the coach has the final say but why he has stuck to Amos Frimpong at right back in which is not paying dividends when Atta Kusi is around confounds us. Kotoko is bleeding because of the results being chalked by the team. The outpouring of pain and disappointment is reaching high levels and Coach Didi can't say he hasn't seen that!
Credit:AsanteKotokosc.com