MTN, ECOBANK embarks on save a life campaign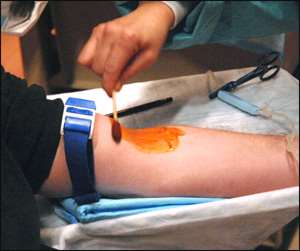 Accra, Feb. 12, GNA - The MTN Ghana Foundation in partnership with Ecobank, Ghana, would organise its annual Valentine's Day Blood Donation exercise on Friday, February 13.
The exercise, dubbed 'Save a Life Campaign,' was aimed at raising a total of 700 pints of blood to support and restock the National Blood Bank.
A statement issued in Accra and signed by Mrs Cynthia Lumor, Corporate Services Executive, said the campaign was also to stock blood banks of selected hospitals in Accra, Kumasi, Takoradi and Tamale.
It said the beneficiary hospitals include Ridge Hospital, Komfo Anokye Teaching Hospital, Efia Nwanta Hospital and the Tamale Teaching Hospital.
MTN Ghana Foundation and Ecobank is therefore inviting staff, other corporate bodies and members of the public to join the campaign' and donate a pint of blood.
The exercise would take place in five locations: Accra- MTN Ridge Towers Offices, Near Heritage Towers, Takoradi-      Market Square in front of the MTN Service Center, Shama-Frontage of Shama FM, Kumasi- Adum near Opoku Trading Enterprise and Katanga Hall, KNUST and Tamale-Fore court of the Tamale Regional library near the Jubilee Park.
Commenting on the exercise, Mrs. Lumor said, 'The MTN Ghana Foundation instituted the annual blood donation exercise because we are committed to supporting the health delivery system in the country.'
'We call on all persons who share in this vision to celebrate this year's Valentine's Day by donating a pint of blood to demonstrate their love for fellow humans,' she added.
MTN Ghana Foundation instituted the annual blood donation exercise in 2011 and was adjudged the Highest Corporate Blood Donor by the National Blood Bank in 2013.   
In 2014, the Foundation received the award for second highest Corporate Blood Donor.
GNA EN-GB X-NONE X-NONE