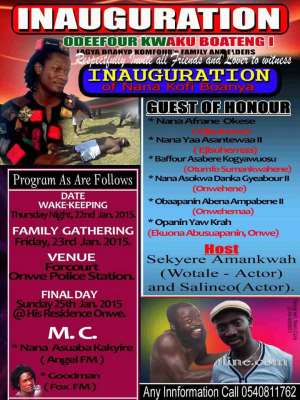 When the Canada based Ghanaian musician Akwasi Pee released his 2013 hit song, "Awendepa nnkasa" little did we know that he was culturally referring to some good works done by some of the little known but popular traditional priests in Ghana, Odeefour Nana Kwaku Boateng. A young Okomfo of little words but with a gargantuan record of successful stories of achievements and healings, is celebrating an annual afahye from 22-25th January, 2015 in honour of Nana Kofi Boanya, the chief deity at the Nana Kofi Boanya Temple of Natural Healing and Culture at Ejisu-Onwe.image
Odeefour Nana Kwaku Boateng, a young man in his mid twenties, is very knowledgeable in the traditions and is the head of the Temple. His hard work, humility, benevolence and sense of community has caught the attention of the many cultural custodians, traditional spiritualism advocates and clients from all over the world.image
Special guests to grace the occasion would be Guakro Afranie Okese is the chief of Ejisu; Nana Yaa Asantewaa II, the Ejisuhemaa; Baffour Asabere Kogyawuosu; the Otumfour Sumankwaahene; Nana Asokwa Danka Gyeabour II is the Onwehene, Obaapanin Abena Ampabene II, the Onwehemaa and a host of VIP guests.
In an interview on the phone with the US based Ghanaian media house, PREKESE Ghanamedia, Odeefour in his usual humble self extended invitations to all African indigenous traditions lovers, traditional priests), mallams, all spiritual workers and ordinary Ghanaians to come and support an extra-ordinary programme at Ejisu- Onwe. He said there would be a lot of healings, miracles and displays of powers by the many participating priests from all over the place.
Never miss a great African cultural experience.
All are cordially invited.