NHIA Owes K'si Children's Hospital GH¢870,000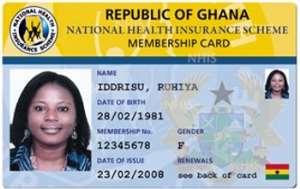 Ashanti regional branch of POLAS members presenting the items to the Kumasi children's Hospital.
The Kumasi Children's Hospital is contemplating replacing the National Health Insurance Scheme (NHIS) with the cash-and-carry system in the coming days.
The National Health Insurance Authority (NHIA) owes the hospital a colossal GH¢872,000, being claims that the hospital had sent to the NHIA for the past eight months without any positive response.
Daniel Ohene Nti-Karikari, Administrator of the 57-bed capacity hospital, bemoaned that refusal of the NHIA to service the debt had cash-strapped the hospital and affected their operations as well.
He disclosed that 'suppliers of medicine and non-drugs to the hospital have been chasing the hospitals management for their monies so when it comes to the worse we shall stop the NHIS. We don't have any other source of income.'
The KNUST Hospital, also in Kumasi, some few weeks ago, scrapped the NHIS by replacing it with the cashand- carry system, with authorities citing non-payment of claims by the NHIA to have influenced its decision.
NHIA owes KNUST Hospital over GH¢1million in unpaid bills for service provided.
The Kumasi Children's Hospital's threat of banning NHIS came to bear when the Police Ladies Association (POLAS) of Ashanti Region made a donation to the hospital as part of activities marking POLAS' 25 years anniversary.
The items presented by POLAS were aimed at helping make health delivery smooth for patients at the hospital. ASP Susana Derry, Deputy Ashanti Regional Coordinator, DOVSU and Executive Member of POLAS, said the presentation was the group's widows mite in assisting the hospital.
Jacqueline Victoria Ackah, Nursing Manager, Kumasi Children's Hospital, said a land for the construction of a modern theatre had been allocated and an amount of GH¢97,000 was needed to put up the theatre, calling on appropriate bodies to help.
She was grateful to POLAS for the donation.
FROM I.F. Joe Awuah Jnr., Kumasi