BodyWorks Massage Services Ghana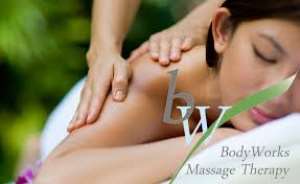 Book a BodyWorks massage therapist to travel to your location in Accra to deliver the best mobile massage therapy, be it your home, office or hotel. We are here to massage Ghana.
An Oasis of Calm in a Busy World...
Home visit Massage
Enjoying a massage in the comfort of your residence has become a trend. Saving valuable time and money you can sit back and relax while you get ready for a BodyWorks massage therapists to come to your residence or hotel to deliver a unique de-stressing and relaxing massage.
BodyWorks Ghana Massage domicile service is the very best way to pamper yourself and your loved ones within the surroundings of your own space. Toxins and stress can be trapped in muscle tissue. Releasing them through massage can bring peace, relaxation and well-being to your spirit, body and soul.
No Driving...No Traffic...
No Parking...No Stress..
Ghana Massage Service. Why not book on-line or simply call the BodyWorks Accra Massage team to reserve with one of our mobile massage therapists any time between 10.00-22.00
Our highly experienced, professional therapists will come directly to your residence, hotel or office. We offer a wide range of professional services to make sure we cater for the exact therapy that you desire.
Business Massage
If you are in Accra on business a good way to relax and prepare yourself before your meetings would be to book one of our range of massage treatments with one of our experienced mobile massage therapists. No travelling to the spa, no traffic and no wasted time. Get a deeply relaxing massage treatment at your location right here in Accra.
Re-energise your body and relax your mind
Increase Productivity at the Office
If your company wants to…
Save money
Increase productivity
Reduce staff absenteeism
On-site massage is a fast, effective and versatile form of therapeutic treatment. It concentrates on the back, shoulders, neck, arms and hands. The client sits in an ergonomically designed chair for maximum comfort. No oils are used and the client remains fully clothed throughout the massage, making it practical and non-disruptive.
Sessions can last between 10 and 30 minutes per employee, depending on which package you decide is best for your company. And because they take place at your premises, no time is lost due to travel.
Enjoy a massage in the comfort of your own home..
BodyWorks Special Events Packages
BodyWorks Ghana massage all to yourself. Let us help you celebrate your birthday, a wedding or baby shower, an anniversary or any other special occasion life has to offer. Talk to Ghana BodyWorks Massage to learn more about customizing any event that it is perfect for your needs. Small and intimate or big and loud. We always add that special BodyWorks touch to make your party something they will talk about for a long, long time. We are also available for photo and film shoots.
Wellness......Home Delivered...