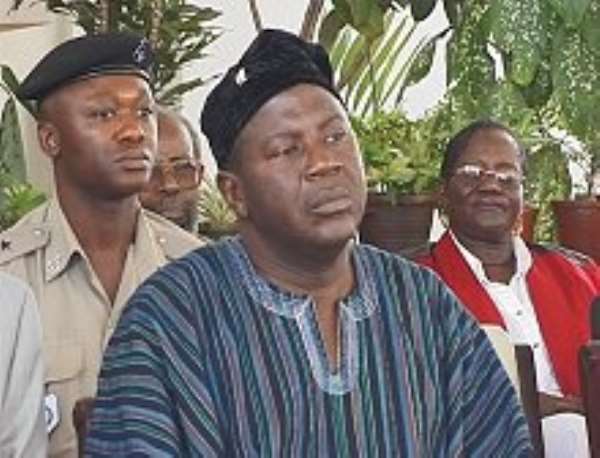 Doha, May 14, GNA - Vice President Aliu Mahama has told the Ghanaian Community in Qatar to portray Ghana as a safe trade and investment destination to Qatari entrepreneurs and investors. Vice President Mahama, who was briefing the Community on the political and socio-economic situation at home, told them that the macro economic situation had significantly improved because of the hard but sound financial disciplinary measures taken.
He said the inflow of Foreign Direct Investments (FDI) was critically needed to achieve the levels of economic growth that would make the standard of living more comfortable.
"We took hard decisions to turn our weak economy around and Ghanaians have been patient with us," he explained. "Over the past three years, the inflation rate has dropped from a high of 42 per cent to the current 10.5 per cent; interest rate has gone down from over 50 per cent to about 22 per cent and other economic indicators are also favourable. "Of course, your remittances of over one billion dollars, which now account for one of our highest foreign exchange inflows had helped a great deal," he acknowledged.
He said Ghana needed business partners from every part of the world and pointed out to them that they were well positioned to encourage successful business people to put their money in viable businesses in Ghana.
Led by their leader, Mr James Pyne, who works with the Qatar Petroleum, the 43 member Community, asked questions on roads, railways, ports and harbours, infrastructure, health and education delivery, investment opportunities, oil and gas exploration dual citizenship among other things.
The Vice President, assisted by Deputy Foreign Affairs Minister Akwasi Osei-Adjei, explained the Government's policy on those issues and other up-to-date- information.
He asked them to endeavour to visit home at reasonable intervals to see things for themselves.
Mr Osei-Adjei advised them to register at Ghana's Saudi Embassy, which has responsibility over Qatar, so that they could be easily located and assisted in times of crisis.
They should also be good citizens and comport themselves in their host country.
Mr Pyne, on behalf of his compatriots, expressed gratitude for the fruitful and cordial interactive session and pledged to do their best to assist their motherland.
The investment-seeking State Visit of the Vice President and his Delegation was at the invitation of Sheikh Jassim Bin Hamad Al-Thani, the Crown Prince of Qatar.
The well-endowed Gulf-State of Qatar, whose economic backbone is oil and gas, has a vibrant industrial base of crude oil-production and refining, fertilizers, petro-chemicals, steel reinforcing bars and cement.
While oil and gas accounted for more than 55 per cent of Qatar's gross domestic product (GDP) with 16 billion dollars purchasing power parity, agriculture contributes only 0.4 per cent.
The country has proved natural gas reserves exceeding 17.9 trillion cubic metres, more than five per cent of the world's total, thus making it the third largest in the world.
With proven oil reserves of 14.5 billion barrels, the country's per capita income is reported to be nearly as much as that of leading industrial countries in Western Europe. In 2002, the GDP per capita purchasing power parity was estimated to be 15.91 billion dollars. Its population is under 900,000 people. 14 May 04