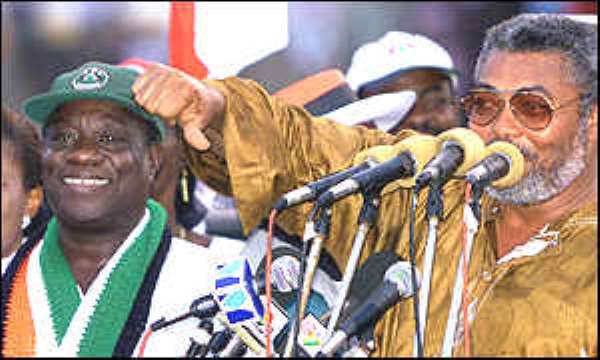 The National Democratic Congress has denied report of a rift between their presidential candidate John Evans Attah Mills and founder Jerry John Rawlings over the choice of a running mate for the December Presidential elections.
The Statesman published earlier this week that Rawlings and Mills were set for a showdown over the choice of Mills' running mate. The paper said whilst Mills prefers businessman Alhaji Camara, Rawlings was rooting for former Communications Minister and the NDC's communications director John Mahama as running mate.
The paper also said the rift could get worse because of what it called the long standing feud between Rawlings and the party's national chairman Dr Obed Asamoah.
But NDC general secretary Josiah Aryeh told JoyNews that there was absolutely no truth in the report.
Aryeh said whilst the running mate issue was important to the NDC, it was by no means the first matter on their minds now.
And as when it became an issue, Mills will have the final say on the matter, the general secretary said.
"Prof Mills himself has said that at this point, he is not bothered by the running mate issue. As when the matter becomes prime, only one will have the prerogative to decide and that is Mills. Individual members naturally may have their preferences but Mills will have the final say", Dr Aryeh said