TRADITIONAL PHILOSOPHY 101- WISDOM IN POPULAR GHANAIAN MUSIC: FOCUS ON DR. PAA BOBO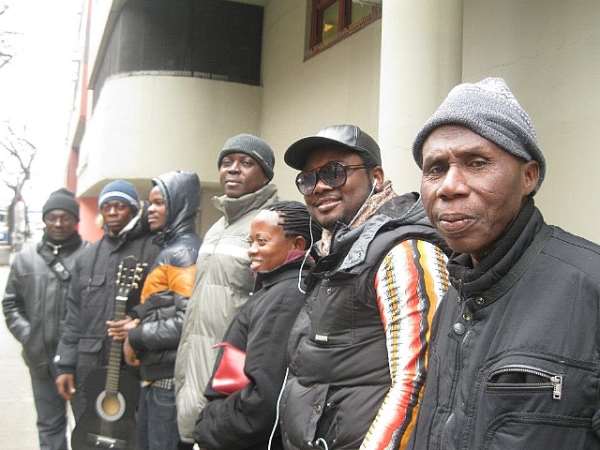 36 TRADITIONAL AND RELEVANT WISDOM FROM DR. PAA BOBO'S MUSIC
We have always wondered how many people in Ghana really pay attention to the lyrics ( words ) in some of our popular music ( Classic Highlife). Aren't some of the "words" as powerful as the commissions in the good books (the Bible)..?
It is interesting to note that one can become well educated in cultural and social communication skills if one pays attention to our music. 36 Traditional and relevant wisdom from late Dr. Paa Bobo's music? Did our elders say "NIPA WU NA TEKYEREMA DEA ENNPOROW A" ?
This article was original shared on Facebook as a dedication to Dr. Paa Bobo whose "ayie" final funeral rites was taken place at Akyem Maase on the April,04, 2014. Today is Sunday, let's see what impact this article will have on you. Our desire is that many people who read this will listen to the radio link and be impacted by the presentation.
Music is a universal language. It is a language that almost every culture has its version while some popular cultural music transcends the local boundary and become a global music, most music even the instrumentals and chants have one thing in common, thus ability to communicate for impact. In popular global music genres such as hiphop, gospel, country, reggae, house, rap, r&B, soul and other music, communication is the chasis on which the the musical car rides. Our ability to dance to good music is determined by how good and well organized the composition is. At many musical events especially concerts, some people just attend for the love of the beats while others go for the lyrics. Others are in the middle who love the beats as well as the good lyrics.
In Ghana, the popular music, highlife, has its history and has produced many important composers whose lyrics and beats took the nation by storm. Names such as E.K Nyame, Nana Kwame Ampadu, Alex Konadu, Joe Mensah, Kwaa Mensah, E.T. Mensah, Snr. Eddie Donkoh, Akwasi Ampofo Adjei, Dr. F. Kenya, Anthony Scorpion, Thomas Frimpong among others readily come to mind. Any keen Ghanaian listener to good music will tell you that lyrics are very important to him/her. One of the reasons why Dr. Paa Bobo aka the Akyem Show Boy became a household is among all things, the careful choice of words ( lyrics) that made commentaries of our everyday lives.
We have spent the whole day listening to most of his music which has interesting titles such as WO NYAME SOM MPO NI, KOKA MA YEMA WO AMO, NSEM KEKA, OSOMPA, COMFORT, ABA SAA etc. We can't help than to share with you some of the traditional philosophy that he inject into his music. These are times proverbs embbeded in the music to have transformative effect on the keen listener.
Here you go, enjoy a good read and click on the link for a good listening to a music program dedicated to DR. PAA BOBO who passed in the early parts of the year and was interred last week
PREKESE GHANAMEDIA
1. ODASANI NI DEA SAA YEBEKA WO HO ASEM
2. NANTWI DUA ANKA NE SISI EKYIE NA EKO PUE KOMFO N'SAMU
3. YESU MPO NA YAABO NO ASENDUAMU , NA WO OSOFO NA WOB3Y3 DEN
4. KA NA WO WOBEKA, HWE NA WOBEHWE, WO KAKAKA A MA OBIARA ATE WO KA.
5. KANKAMA SATELITE YE DETO WO SO A, EKYEN "NTERNET"
6. GHANA NYONKO), OBIARA P3 NO NYONKO HO) MFANSO)
7. M'EDI KOSUA ABO BOA MU, M'AY3 PAPA ENYA AY3, SAA TI BON BI Y3 MUSUO
8. NSEM KEKA, GHANA YESE YESE, AK3 AK3, NSEMKEKE NA EGU NKRONFO AWARE
9. WO SEN WO NYONKO) A OTAN WO
10. ATETEKWAA KYIRI OMAMA
11. ANO DA HOA EKEKA NSEM
12. NEA A OGYA AWO) NO ONO NA OSESA HYEBRE
13. EFIE MPO NIE
14. ENYA ADWO, NEA OFIRI O, NEA OTUA KA O, NO WURA SE ONTUN BIO
15. NEA OKUM GYE3 NE )MEE
16. BANKYE ENIM GU ASE A, NA NKURUMA AY3 CHAMPION
17. OSOBROKYERE, FA WO NSA BEWO M'ENI, ODO NTI ME WUA ENYE HWEE.
18. WO BO HU A, ........CAR NA AB) WO
19. WO ENYA WEDDING BISA WO SUBAN
20. WO KO ASOR KWA
21. OSOFO NTI NA WOK) ASOR ANA ENY3 WO GYIDI
22. ADEA NSA Y3 A , YENB) NYAME SOMBO)
23. ENGYE WO HO NDZI BEREBE SE WO Y3 KRISTONI
24. NTSI OSOMPAPA NA YEDE SOM NYAME
25. OBI NNHWE OBI BA
26. SANSAANKROMA MENIM BEBIA MEWUO
27. ONWUMAFO) HO Y3 NA
28. WONNTUME NKAN OBI ADWEN
29. SE WOTUMI PAE BROFRE MU A NA WOBEHU SE ABA NO Y3 BEBEERE, NIPA ADWEN Y3 BEEBRE
30. WO NYAMESOM NI
31. OKOTRE TAR BAN HO NA MEDI ABAA AWAA NO AFEI NA OBEMA ME OPIAFO
32. OHIANI HEN ABEN A ONYA OTSIE FO
33. OHIA WO A NA WO YER HYEHYE MBRA MA WO
34. WO FO DUA PA NA YEPIA WO
35. OFIEFO) EYI ME AHWE FAMU AMA ABONTSENFO) REHUR ME
36. OKOSIE NYA FUFUO OBEDI NA MBOM WODRU ENNK) NO BUM NO NTSI A
Dear Reader, as you have almost finished reading this short article, take your time to listen to the link connected to this article. We promise you at the end of the listening, you will come to conclusion that Ghana has a lot to offer our people if we all pay attention to our culture. Enjoy listening, crystal clear quality sound.
listen to MUSIC
http://chdscghanafm.snack.ws/