KUMASI AKOMFO ASSOCIATION PRESIDENT CALLS ON GHANAIANS TO BE TOLERANT AND LIVE CORRUPT FREE LIVES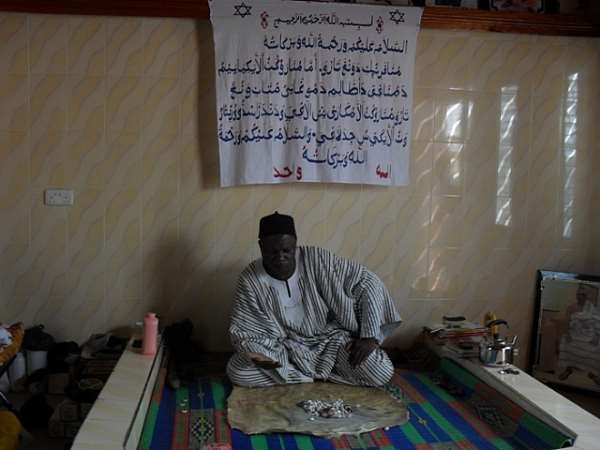 A Kumasi based African spiritual culture practioner and the President of the Ashanti regional Akomfo Association, Nana Kwame Subun popularly known as Nana Kudi Baawasaba has called on Ghanaians to keep praying, be honest and practice a culture of virtues and truth in whatever field of endeavour they find themselves. He made this call today during a modest family party in Kumasi in commemoration of being an Okomfo ( Divine Priest) working for the community and Ghana for 44 years.
In an interview with the New York based PREKESE GHANAMEDIA via phone today, Nana Kudi was very humble, simple and very articulate. Nana thanked Twerdeapon Nyame, the "abosom" ( deities ), the Nananom Nsamanfo, all the good spirits, his shrine and hospital staff, the family, the customers and the Kenyase community for the protection and support during all the 44 years of service and practice. He said, even though he has had some form of challenges in the practice, he believes that honesty and truth has been the secret tools that has seen him through all these years.
Nana Kudi whose video of his arrival from America went viral on social media i.e Youtube recounted how he has worked so hard in sustaining his Shrine ( the Baawasaba Centre) located at Kumasi-Kenyase-Abirem which consists of a traditional healing shrine and a modern clinic ( American Diaspora Hospital).
Nana Kwame Subun aka "Nana Kudi" is a history maker and he is the only Ghanaian known Okomfo who has a shrine and a modern hospital serving the community and Ghanaians as well as clients from around the world. Nana expressed his sincere appreciation to his American supporters who helped financed his modern hospital. He proudly said, his financiers from America became interested in his work when they visited his shrine and saw the potency in his practice and the honesty with which he worked.
Nana Kwame Subun interestingly said that his main deity's name is KURI not Kudi as people have been calling him. He explained that the deity when he possesses him and people give him gift of money which he called "Kudi", the bosom will continue "Kudi Yennfa Ndi Agoro "..to wit You do not joke with money because everybody treasures it. And with time, clients started addressing Nana KURI as Nana Kudi and it has become the accepted name at the shrine.
But who is Nana Kwame Subun? How did it all begin? What were the initial challenges? What are his advice for the new generation of Akomfo?
Nana "Kudi" was born in Kumasi ( Oseikrom) in the 1950s and completed his elementary education at Kumasi Kenyase Local Authority School: Nana narrates that he became a priest in 1970 when he was in elementary school. On graduation the parents asked he supported them at the farms to raise money for his work. Nana said, he has seen it all, from being a palm wine tapper, by day farm assistant and as a chop bar fufu pounder just to make some money for survival.
Nana's next phase of "abrabo" was to become an apprentice to a basket weaving master. His joy turned to sadness when on his rounds to sell the finished products of 25 baskets, Nana was robbed at the market. His master did not believed him and this incident led to his being sacked from the job. The parents who were also very poor encouraged him to do his own baskets from what he had learned so far. According to Nana, going to the bush for the palm fronts were not an easy exercise but he never gave up as his mother would take the baskets to the market to sell them for the family's survival. Even though the family's fortune was comparatively improving, Nana became a banker to banker lotto agent working for the Chicodo Enterprise for some years.
One day, his father asked him to help him organize an Akom festival which became successful. This turn of events gave him the impetus to become serious again in Akom and so he got the father to train him further in Akom.
When Nana was asked about his achievements he humbly responded by referring the interviewer to his website which has the following:
"I HAVE HELPED A LOT OF PEOPLE IN MY COUNTRY AND OUTSIDE THE COUNTRY, I HAVE I HEALED MANY SPIRITUAL SICKNESS SUCH AS MADNESS, STROKE, BARENESS ETC, AND AGAIN I HAVE BEING HELPED MANY PEOPLE WITH BAD LUCK DISAPPOINTMENT AND MANY MORE. I MARRIED TO MAD. ABENA AMPONG WHO COME FROM KENYASE AND WE HAVE FIVE (5) CHILDREN. I HAVE A CLINIC ALSO FOR MY COMMUNITY WHICH IS CALLED AFRICA DIASPORA CLINIC AND MATERNITY HOME. "
When Nana "Kudi" was asked for his advice for the new generation of Akomfo, he said, people should be patience, focus on the job and the practice not money, enjoyment, rushing to amass wealth and properties, other worldly distractions such as fornication etc. He advised that people should be honest with the job and said that Akomfo should let "ASEDA do the work not NTOASE"……..Do you understand what he means by this statement? "oba nyansafo),yebu no b3"
To all Ghanaians, Nana said, we should be tolerant of other people's views and appealed to all the major political parties to educate their followers to improve on politics of insults. He said,Ghana belongs to all of us. therefore, people should learn to live side by side instead of being antagonistic to each other. He warned young people who follow politicians to learn some vocation to improve their quality of life instead of being manipulated by some selfish greedy politicians.
We wish to send messages of congratulations to Nana Kudi on behalf of the International Center for African Culture and Arts: