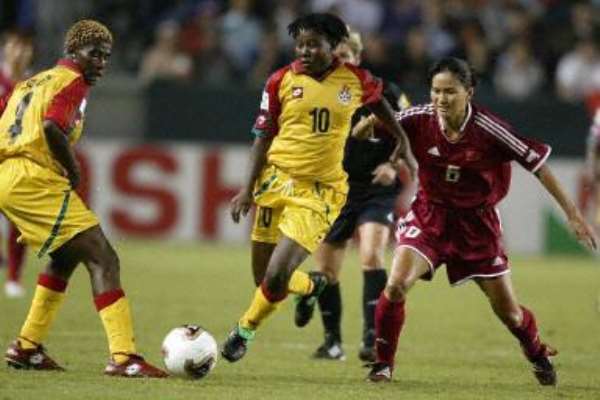 Adjoa Gayor, Ghana's female soccer star, has been named by the Confederation of African Football (CAF) as 2003 African Women's Footballer of the Year.It is the second time in succession that a Ghanaian has won the coveted title.
Bayor becomes only the second Ghanaian female footballer to be bestowed with the highest individual honour in Africa. She succeeds her Black Queens and Robert Morris College team-mate Alberta Sackey who won the 2002 title. Bayor,who has been a key member of the Queens since 1997, was recognised for her outstanding contribution for the Queens during last year's Women's World Cup in the United States.
The petite offensive midfielder was the shining star in the Queens and was voted the Budweiser Best Player in Ghana's 2-1 victory over Australia in the final group match.
Mr Gary Rathbone, an official of South Africa-based African Soccer TV, organisers of the annual CAF-MTN African Soccer Awards, yesterday confirmed to the Graphic that Bayor, Camerounian legend Roger Milla, Zambian star Kalusha Bwalya, Malian Salif Keita and Liberian FA President, Wesley Izetta, will be among many winners at a gala to be held in Yaounde, Cameroun, on April 30.
Other categories including the coveted male African Footballer of the Year award will be announced in Yaounde. Cameroun's Samuel Eto'o Fils, Austin Okocha of Nigeria and Cote d'Ivoire's Didier Drogba have been nominated for the title.
Last Sunday, an elated Bayor told the Graphic that she could not believe her ears when the Minister of State in charge of Youth and Sports, Mr Rashid Bawa, broke the news to her and offered his congratulations for the achievement. "I was overjoyed when I heard the news and I later celebrated with my friends. I believe it's the work of God," Bayor said.
"I feel very proud that my efforts have been recognised, but it also places enormous burden of expectation on me when I play for Ghana. The midfielder revealed that she is discontinuing her education in the USA to focus on a professional career in Europe.