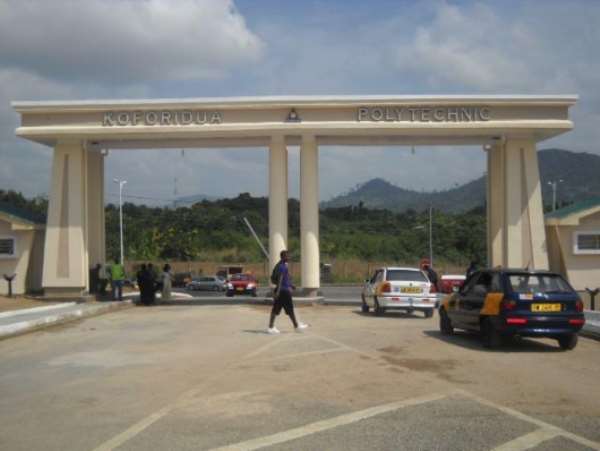 With effect from next year students of the Koforidua Polytechnic in addition to their selected study programmes would be taken through entrepreneurial courses on various vocations to make them self-employed after graduation.
 
The vocations which would be the choice of students include livestock and bee-keeping, hair dressing, bread baking, barbering, batik making and mobile phone repair.
The Rector of the polytechnic, Professor Reynold Okai made this known at the 18th matriculation of the polytechnic during which 4,224 students were offered admission to study various programmes at the Bachelor of Technology and Higher National Diploma levels.        
According to Prof Okai the polytechnic had to adopt such a measure which he said pertained in Nigerian polytechnics so that students who would not readily get jobs after graduation would be self-employed to earn a living.        
He said although students of the polytechnics were taken through entrepreneurship as a subject, unemployment among the graduates still persisted as such Koforidua Polytechnic had to adopt such an initiative so that those who would not readily get jobs would be able to generate income for their livelihood.                          
Nigerian model         
"We have to go by this approach which is a model developed by the Federal Government of Nigeria so that our graduates will also be self-employed as soon as they leave the campus", Prof Okai stated to a thunderous applause from the student body.        
With regard to quality tuition, Prof Okai said his outfit had been admitting the best cream of students who were given the best tuition by well-qualified lecturers who were often assisted to continuously upgrade themselves to stand the test of time.                                  
DNA laboratory       
He announced that the polytechnic would soon start a new programme, HND in Medical Laboratory Technology with a DNA testing laboratory, the first of its kind in any tertiary institution in the country.         
Prof Okai cautioned the new students against occultism, casual sex and examination malpractices, saying such negative tendencies would only prevent them from achieving their aims.        
Rather, he said they should make judicious use of their time by studying hard to justify the investment being made on them by their parents.