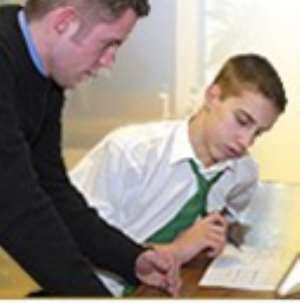 WHAT MAKES A GOOD TUTOR
Ability. More than anything else it is the tutor's ability to explain their subject to their students, and guide their students through the learning process. This isn't a qualification which comes on paper. Teaching and tutoring are similar but different skills so it isn't as easy as saying that all tutors need a teaching degree to be good. Sometimes a student in the year above will be the best tutor for you. Sometimes a professional with no formal teaching qualifications will be best. Sometimes the best tutor for you will be a fully qualified teacher with a degree in your required subject. However, there are adequate tutors and there are great tutors.
What Makes A GoodTutor?
I mentioned ability above so let me clarify.
Adequate tutors know their subject well enough and can explain it to you.
A good tutor knows and understands their subject well, can relate to you and your problems (directly or indirectly), can change their language to suit you and guide you through the learning process.
A great tutor is someone that you like and can relate to you. They don't just know their subject well they understand it so well that, if needed, they can explain it to you in a way that they have never heard it explained before. They know a lot about learning and can find the right techniques for you to maximise your potential. They are also able to get you to put in the extra hours of work required to achieve success! Great tutors definitely have experience and lots of it. They are frequently no more expensive than anyone else but they are rare and difficult to find although there are definitely a few on this site!
Before we get to the next question, let be explain how a good tutor can relate to you and your problems either directly or indirectly. Most people specialise in subjects that come easily to them. However, many tutors are better in subjects other than their specialties because those subjects didn't come easily for them. They had to work hard to get through the subject and master it. They then use this experience to explain these subjects to people who also have problems with them (tutors like this relate directly to their students).
However, tutors who tutor subjects which they have always found easy relate indirectly. They only become good tutors because the have both empathy for their students, which allows them to understand where the student is coming from, and experience(they have helped many students with the same problem in the past).
This is probably the biggest reason why there are no suitable qualifications for tutor sand why you may need to look around to find one who is best suited to you.
And finally...
When choosing a tutor remember that there is always a balance to be struck. A physics professor may know a lot about physics but can they tutor you? A tutor teaches you how to learn a subject for yourself. They do not teach it to you. That is what school is for. Think of them as a guide or mentor with expert knowledge in learning and a little more knowledge than you in what ever subject you need help with.
To find a Good Tutor for yourself or your ward, My sincere recommendation is Excellent Home Tuition.
Visit http://excellent-tution.webs.com/or call Now