Prosecution prays for adjournment in Katinan's case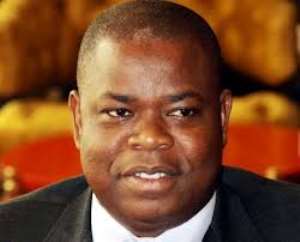 Justin Kone Katinan
57550
Accra March 13, GNA - The prosecution in the case of Justin Katinan, an ally of former Ivorian President Laurent Gbagbo currently facing extraction process on Wednesday asked for a short adjournment.
Mr Matthew Amponsah, Chief State Attorney, told the court that the case investigator who was to testify had been summoned to the High Court this morning hence could not do any business before the Osu District Magistrate Court.
It therefore prayed the Magistrate Court for a short adjournment.
The court presided over by Mr Aboagye Tandoh obliged prosecution's request and adjourned the case to March 27.
Katinan, a former Budget Minister, is now facing 20 counts of conspiracy to rob and robbery. His plea has not been taken. Prosecution had indicated that it will only call the case investigator as their witness.
The state on December 18, 2012 filed the documents on the extradition process in court.
Katinan, who was spokesman of Cote d'Ivoire's ex-President Laurent Gbagbo, is facing possible extradition to his home country, which accused him of organizing raids on 10 banks during the last election crisis and stealing a total of around 300 billion CFA francs (592.91 million U.S. dollars).
He was also charged with two killings allegedly committed at the height of the election crisis, which erupted after Gbagbo refused concede defeat in 2010.
On September 29, last year, Ivorian authorities issued a warrant in respect of Katinan and informed the Ghanaian authorities that he was in Ghana and demanded his arrest.
GNA