Hapoel Tel Aviv release John Paintsil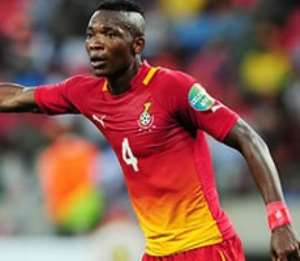 Black Stars defender John Paintsil has been told by his Israeli club side Hapoel Tel Aviv to look for a new club.
The club took the decision to release Paintsil even before he was named in the Black Stars squad for this year's Nations Cup in South Africa.
The former Fulham player made the headlines for all the wrong reasons both in the local and international media last month following his arrest by the police for allegedly assaulting his wife and a neighbour.
Spokesperson for Hapoel Tel Aviv Rotem Grossman explained that the club's decision to release Paintsil has nothing to do with his recent assault case.
''Talk about sacking him, John is not going to play for Hapoel Tel Aviv and that was the coach's decision like two months ago even before the incident," Grossman told JOY Sports in an exclusive interview
"We made him an offer to find a new club in January but he didn't want to leave.
"So when he returns I think it will be better to reach an agreement so he can think about his future as a football player and not just train with the team without playing."
Hapoel Tel Aviv are also considering to take disciplinary actions against John Paintsil following his failure to return on time for further discussions on his future at the club after the Nations Cup.
"He has to give us explanation for his failure to return on time," Grossman added.
"He should have reported on the 25th February after he got an extension for few days due to his hamstring injury.
"We will question him about all the incidents when he returns and we will find a solution that will benefit the club and the player.
"I don't think is good for him just to be here and not think about next season , it will be if he starts thinking about next season and find a new team."