Image of the day : Get up or quit? – wondering Lolo Jones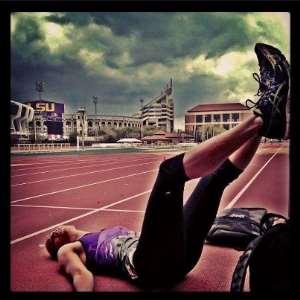 Lori "Lolo" Jones is an American track and field and bobsled athlete who specializes in the 60 and 100 meter hurdles.
Former Lady Tiger Jazmine Fenlator and two-time Olympic hurdler Lolo Jones will be an ESPN analyst at the NCAA Indoor Track and Field Championships this weekend, where the No. 1 Lady Tigers will compete for the title.
An injury kept Jones from competing, so she attended the meet as a sideline reporter, which she said was odd. She compared it to Kobe Bryant working as an analyst on the sidelines of a championship.
'I had the fastest time in the world, and I literally had to interview the girls as they cross the line,' Jones said. 'And after the race I still had the fastest time in the world.'
The gig at ESPN this weekend would help her ease into a life after competition while also allowing her to stay involved in the sport she loves