Egypt security, protesters clash at president's palace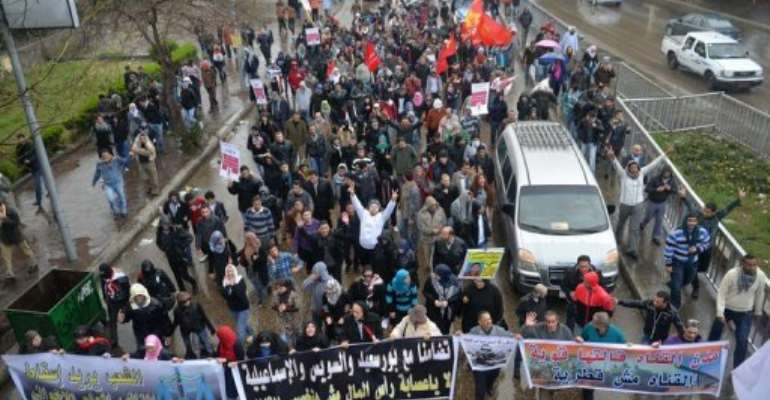 CAIRO (AFP) - Egyptian security used water cannon and fired shots into the air as protesters threw petrol bombs and stones into the grounds of the presidential palace in Cairo on Friday, an AFP correspondent said.
The clashes came amid rallies in several cities against Islamist President Mohamed Morsi following unrest that killed 56 people, mostly in Port Said, after 21 residents were sentenced to death over a football-related riot in 2012.
The night sky was lit by fireworks fired by protesters above the north Cairo palace, amid the crackle of gunshots in the air from the military's Republican guard from behind the palace walls.
Police, who had initially withdrawn inside the compound, then advanced on protesters using armoured cars while firing tear gas.
Elsewhere, thousands of protesters took to the streets to protest against Morsi, whom they accuse of betraying the revolution that brought him to power last June.
Scores of protesters skirmished with riot police several hundred metres (yards) from Cairo's Tahrir Square, witnesses said, and two were wounded by birdshot fired by police.
But the clash was far less intense than last week's deadly unrest which killed 56 people, most of them in Port Said, where violence erupted after 21 residents were sentenced to death over football-related violence a year ago.
Thousands of people protested in Port Said on Friday calling for Morsi's removal, unfazed by the military deployment in the canal city, and similar marches took place in the Mediterranean port city of Alexandria.