CONFLICTS IN OUR AFRICAN CULTURE, FOCUS ON WINNEBA DEER HUNT FESTIVAL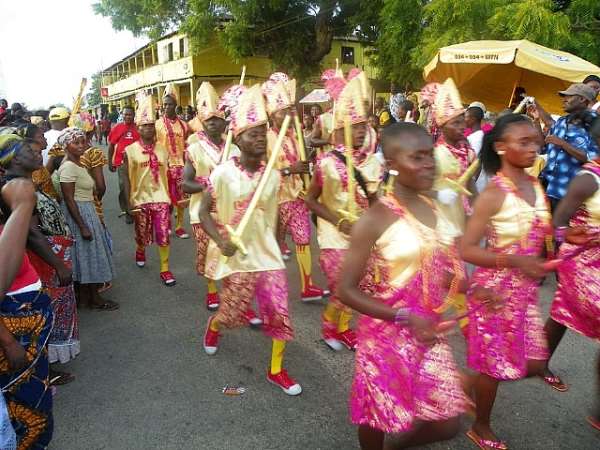 Many traditional festivals in Ghana are losing their cultural significiance as a result of many conflicts of interests:
From Lack of financial support and dependence on corporate support with its special interests on direction and formats, religious intolerance, competition and condemnation, new media challenges, elders on status quo and youth on so-called changes, through internal conflicts and politics; defenders of authentic culture have a concern for what is going to happen in the future: The abstract below is culled from a Simpa native, KWESI EWUSI BROWN who presented this as his THESIS for the award of Masters in Music at Ohio State University on changing focus of our ancient traditions: The concerns raised in the thesis are very topical and relevant to almost to all the celebrations of festivals in Ghana today and we believe that by sharing this with you, we would all take time to study and discuss intellectually the historic and cultural essence of why we celebrate festivals, respect the core-principles and practices as well as make new changes that would not obliterate our heritage:
Thanks for your time:
PREKESE GHANAMEDIA ( International Center for African Culture & Arts (ICACA)
"The annual Deer Hunt Festival of the Effutu people of Ghana's Winneba state continues to perplex the elders and chiefs of that land. Until recently, Aboakyer, which translates literally as "animal catch," had been known as the nation's most important traditional festival. But this has begun to change. A recent report in Ghana's Sunday Mirror noted that the Aboakyer festival has decreased in importance.
In its place, residents have begun to put their energy into the Fancy Dress Festival which, though initiated in the 1920s as a spoof on Western culture, has now taken on new importance, even replacing (for many) the Aboakyer. This shift is due to a variety of developments, including: arguments between practitioners of traditional religion and converts to Christianity, divisions between age groups (elders remaining committed to Aboakyer), and national political parties (with members of the National Democratic Congress supporting the Aboakyer and members of the New Patriotic Party supporting the Fancy Dress Festival). Complicating this further is an ongoing dispute, which has repeatedly resulted in violence, within the Effutu royal family, where the Gyateh (or Ghartey) line is fighting with the Ayrebi Acqua line over which line is the rightful ruler. This ongoing violence has generally pushed people away from celebrating the Aboakyer festival, including commercial companies that once offered financial and administrative assistance.
The activities of both festivals are dominated by music and dance. For example, at the commencement of the deer hunt festival, elders meet at a shrine and invoke the spirit of the war god Penkye-Otu, who will lead them to the forest to hunt for a deer. Invocation is accomplished by singing provocative songs that anger the spirit who in turn mounts and possesses his followers, preparing them for the hunt. Though done surreptitiously, leaders of the Fancy Dress Festival invoke Penkye-Otu as well. These same songs, now presented in a secular context, are later performed by brass bands.
This thesis will compare and contrast these two festivals. Research for the project was undertaken in Winneba in the summer of 2004 and included interviews with members of the Winneba traditional council, members of the brass ensembles, as well as elders, choreographers, and spiritual leaders of the four Fancy Dress Festival groups and the confederation that unites them. In addition I draw upon my own experience having grown up in Winneba and having participated in both festivals."