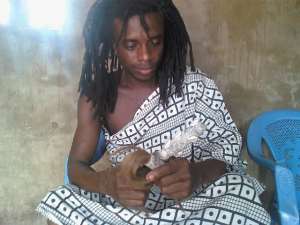 A powerful traditional priest, Nana Okomfo Kofi Appiah of Nkoranza, Brong Ahafo region of Ghana has thrown the challenge to all Ghanaians who want to be wealthy in a genuine way to consult him for genuine natural powers rather than get involved in Sikaduro or Sakawa rituals which has a long term consequences. He advised all energetic young men and women to get more education and avail themselves of the right resources to prepare them better for the future. He made these statements during a conversation with PREKESE Ghana Media at the weekend. In a friendly chat, cool and confident Nana narrated his story about how he became a priest, how long he has worked, his office and clinic routines and how he has helped many people in Ghana and beyond. Below are excerpts from the Conversation titled SPIRITUALITY CONNECTIONS.
His full name is Nana Okomfo Kofi Appiah. His Parents are Nana Akwasi Obeng and Madam Akosua Gyanfua. Nana attended Abesim Senior High School which is in Sunyani in the Brong Ahafo Region.
He was inducted into the priesthood training into becoming an Okomfo from 4th July 1994 when he was only 17 years old. Nana who never worked formally before he became Okomfo, enthusiastically narrated his story about how the deities came on him when he was working at his farm.
Nana's shrine is at Dromankese,Nkoranza-North in Brong Ahafo Region and his Okyeame is Okyeame Junior Bismark, an energetic young man who is very informed about Akom protocols and alternative medicine.
At Nana's shrine the following great deities or divine energies are served according to him: Tegali Boufor,Adampa Kofi Otuo Suman,Anfafiri Boufor,Nframa Boufor,Kankanbea Boufor,Agya Boufor,Atia Nframa and Tongo Boufor.
Nana's speciality which is dealing with everything spiritual is summarized as follows: He takes care of the sick with herbal medicines which are prescribed by the divine deities ( gods ). He also takes care of Spiritual challenges such as Mental Issues (Abodam, Yes the extreme cases, just bring them he told us), Nightmares, Spiritual Marriages, Marriage Problems,Spiritual Sex and Convulsion.....etc. Nana also catches people with witchcraft ( Bayifo).....and works to neutralize the negative powers when one is collared by the shrine.
Nana who hosts many festivals in a year because of the numerous deities that he serve is an avid Akom dancer, and a showman. His festivals are always packed and attendees come from as far as Benin and Nigeria. Among the festivals are Tegali Boufor Yam Festival,Tegali Boufor Cow Slaugther Festival and Yam Festival for Adampa Kofi Otuo Sumyn and Anfafiri Boufor.
When we asked Nana why many of his gods bear the name Boufor instead of Nana, he explained.....
" the reason why most of the gods have the last name Boufor is that they are "Suman" Brafour.
Nana who has special group of musicians made of drummers ( asokwafo) and singers ( nwomkro dwomtofo) says his musicians are experts in the Bono divine music traditions. When we pressed on for further information, he mentioned some of the unique songs that his shrine has composed for the deities: some of the songs,
BRE Y£ YADE£
KWAN BI A,ME KOI
YEB£ YE KRO YIE
ADI KAN B£ DI AKYIRE
MA AS£M NI
BOUFOR NE WHAN
When we asked Nana if there are any prominent Ghanaians who are his clients, he smiled and told us that many business people visit him but to protect their confidentiality, he asked us to excuse him not mentioning names.
Nana, we gathered is an International divine priest because he travels frequently to Burkina Faso, Togo,Benin, Nigeria, Cameroun and La Cote D'Ivoire to take care of clients.
Nana told us that he is a membership of Ghana Psychic and Traditional Healers Association Ltd,and Ghana National Association of Traditional Healers where he has been legally given a Licence to operate.
Nana who maintains a Facebook account is a member of the GHANA CULTURE AND TRADITIONS ( a group maintained by an American African Akan priest and NANANOM SE TETE WO BI KYERE ( a project of A New York based WORLD CENTER FOR ALTERNATIVE MEDICINE. Nana has a website and the address is http://nanakofiappiah.webs.com
Nana appealed all Ghanaians, Africans and foreigners who have spiritual problems to contact him via his personal cell phone number: 011233-242 70 4773.
Nana is currently being considered for International member and an expert in Traditional Healing of the African Chapter of the New York based World Center for Alternative Medicine ( WCTM) as well as in the early stages of establishing working relationship the International Center for African Culture & Arts ( ICACA) also of New York.
COMING SOON: IS SAKAWA REAL....? IS SIKADURO REAL? WHAT ARE THE DIFFERENCES ?
ARE MANY NEW CHARISMATIC CHURCH MINISTERS USING "SUMAN"?.