Let's Join Hands To Eradicate NTDs - Kufuor Tells The World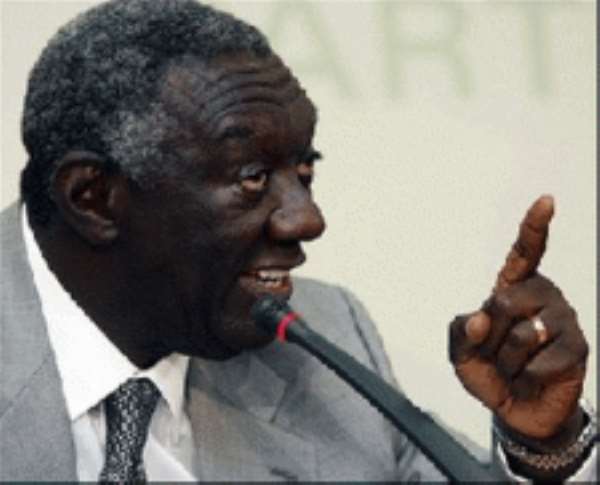 Former President John Agyekum Kufuor
Former President John Agyekum Kufuor Former President John Agyekum Kufuor has called for concerted global efforts to eradicate the seven most Neglected Tropical Diseases (NTDs), which afflict about one in six people worldwide, including 500 million children.
Elephantiasis, schistosomiasis, round worn, whip worm, hook worm, river blindness and trachoma are the seven most neglected of such diseases and they account for 90% of the global NTD burden.
''These diseases together, carry a higher health burden than malaria and tuberculosis and are the most common infections of the world's poor, causing blindness, massive swelling in appendages and limbs, severe malnutrition and anaemia," he said in a statement signed by his Spokesperson, Mr Frank Agyekum.
The former President was speaking at a luncheon hosted by the Global Network for Neglected Tropical Diseases (NTDs) and the African Union (AU) at the Carlton Ritz Hotel in Washington where he is to be formally introduced as the Special Envoy for NTDs
President Kufuor said controlling NTDs was a major factor in improving health systems and reducing poverty in endemic countries as they are a leading cause of pregnancy complications and lower school attendance among children as well as worker productivity.
''From food security to economic development and gender equality, l have seen at first hand, the links between health, education, and clean water and, how addressing these vital areas of human development could sustain the development of individuals, communities, and the growth of a nation,'' he said.
Mrs Amina Ali, AU Ambassador to the US, said the appointment of Former President. Kufuor highlighted his past accomplishments and was hopeful that ''with his leadership, donor governments and developing countries will be able to come together to eliminate NTDs."
In his new role, Former President Kufuor will enlighten donor governments on the global NTD burden and the impact of treatment and research as well as encourage them to incorporate their control into existing global health programmes.
Former President Kufuor had earlier held talks with officials of the USAID during which they discussed the need for increased funding for NTDS.
He will on Friday, chair the second biennial High Level Meeting of the Sanitation and Water for All Partnership of which he is the Chairman and hold talks with US government officials.
GNA