HIPLIFE STORIES.....I SING IN TWI, HAUSA, KROBO AND GA...SAY NABEASTY...OUT WITH "I DON COME"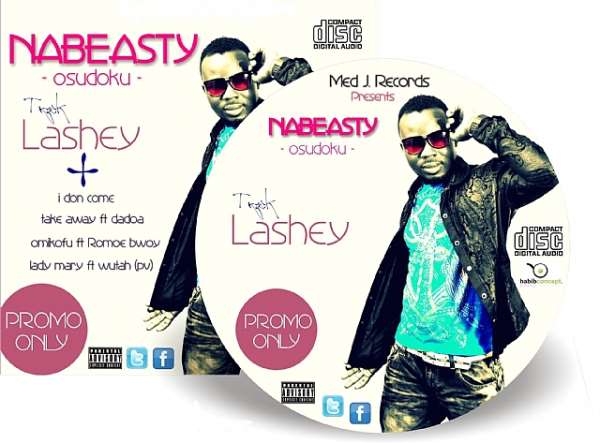 Hiplife Music, many of the lovers and fans say, has come to stay. To solidify such a powerful statement, there needs to be proof that there are mechanisms and proper indicators pointing to it's timelessness. Among the indicators are when new and unsung musicians are being discovered day in and day out. In our search for new discoveries, our team came face to face with a Cape Coast native who is set to rock Ghana through his multi-lingual album, I DON COME.
Born Solomon Tetteh Bansah at Cape Coast in the Central Region to Mr and Mrs. Bansah, this young man attended Ghanatta College of Art and Design. Is it any wonder that with a solid art background, he comes out powerful via the performance component? His love for making music was inspired by his role model, Wutah Pee (Afriyie) of Wutah Fame. To realise his artistic and professional dream, his parents encouraged him to further his education at the presitious IMPC where he earned a degree in Graphic Design. Here is the background of the young man behind I DON COME album, NABEASTY and in our conversation with him, he explained the meanings behind the tracks in his own words:
"Well, I DON COME is an album featuring HAMZA with a statement: I laid back after my first Album (Ma Soul) and many people labelled me One Hit Wonder. It was so challenging for me when my fans wasnt hearing from me again .. so I specially thought I would give it a better name as *I DON COME* Which simply means I'M BACK..
Secondly, the title LASHEY is a funny word in Hausa Dialect.. and it simple means, women of today intentionally ask Big Boys for just a little token like **Can you please give 50ps** And they know the Big Boy would not just give 50ps but more.. With the Track POVERTY. I think each and ever one understand how hard things are right now! and if Poverty is in my home today! then I call it a Sickness.. lol.. Because it can ruin your Life.
TAKE AWAY , was specially made for ladies of today who are being paid for bed! I WANT MARRY was a track I felt so emotional when i was in a relationship that last for couple ofyears! OMIKOFU means , be pissed off, that is a word from the (DANGBE**Krobo**) Local Dialect. and the brain behind it is .. Love me no matter what and don't be upset with how i treat you! I NEED YOU was a Track I felt being cheated when i had misunderstanding with a lady who is so precious to my heart. She stop seeing me and switched off her phone and never wanted to hear from me again after she misquoated a word and im trying to correct her and she got upset! BOHYE simply means , PROMISE! its a also word in our local Dialect (TWI) A lady who promised to be with me till end of time , but broke her promises.
Regarding who is his Producer, He had this to say: "Well honestly..for now! Nobody! But believe me.. Am Looking up to
God to drive that PRODUCTION HOUSE to my Life and I know that is going to happen soon."
Well ,well, I think im expecting my fans to continue to support Nabeasty Music and Love it as well.. because Music Music without me is useless..Keep expecting my Unique style ** Dangbe Flavor for you.
Well as the saying goes.. for everything.. God first! This Album should make an Impact in Ghana, Africa and all over the World so that I can have a Life changing and continue to do good music for my people and massive videos as well. For Shows.. my funs already know what imcapable of doing when am on stage. I rock it like Nobody's Business!
SAMPLE TRACK:
https://mail.google.com/mail/?ui=2&ik=bfb40ca6b4&view=audio&msgs=13671eebd8240fb0&attid=0.1&zw