THE HIPLIFE PRIDE OF KWAHU, K-UNIT ARE BACK IN FULL FORCE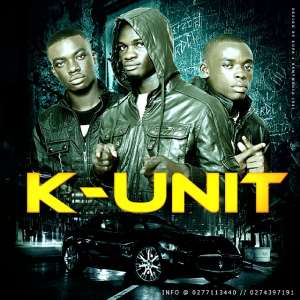 For many Ghanaians, our love for music is as important to us as the air we breathe. We are also a people who worship our celebrities especially when they are a quality group. With a name that rivals the US Hip Hop Super Star,50 Cents and his G Unit Crew, the Ghanaian group K -UNIT was in the news again. At the heights of their stardom, circumstance beyond their control led the group to fall apart. Many fans were disappointed for this turn of affairs, but wait a minute!, there is good news for Ghanaians...........................the group, the pride of wealthy Kwahu nation and the land of millonaires, have reunited and are back in full force. Yours Sincerely, the PREKESE GhanaMedia, which is carving a name for itself as the focal point of quality journalism and grassroots reporting granted a special interview with the group; here are the excerpts:
K-Unit started as a 3- man rap group with Daniel Koranteng Owusu Amakye (Amakye K-Unit), Owiredu Daniel (DonnDee K-Unit) and Paul Adu (Akata K-Unit). Their Hiplife hits were created and performed in Ga, Twi and Pidgin languages. The Trio registered a sensational hit with their 1st single''Awukye'' and soon became a household name in Ghana. Their light-hearted, sarcastic often amusing lyrics and catchy rhythms had both the old and young dancing. A party time in Ghana meant put on your dancing shoes with the K-Unit. However, Amakye K-Unit had to quit the group due to some misunderstanding between them.
Don and Akata tried their best to work on some singles to keep the name (K-Unit) in the minds of Ghanaians. As the saying goes ''whatever God has put togther no man can put it asunder', things have taken a different turn. Every misundestanding has been settled accordingly and Amakye K-Unit is now back to his 'home'.
In his own words, Amakye K-Unit said:
'' this is the time I have to work with my guys to take GH music to another level and our almighty nation, Kwahu (KH) far. Yes, we represent MONEY AND HARD WORK, we are KH and wants to be INSPIRATION for Hard Work in Ghana. I also want to take this oppoturnity to apologise to all my fans for the "short break" and I promise not to disappoint them again '' Amakye stated in an interview this morning.
We are back and strong than ever and we are going to work together as one family. DonnDee K-Unit added
Any lessons for us? Whatever differences we all have, we can make amends and rock the world. Ladies and Gentlemen, the K-UNIT is back....................Ghana will never be the Same Again.