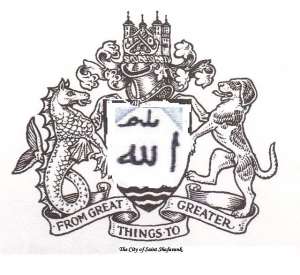 INDIAN GOURMET:
Bis-Mil-La-Hir-Rak-Ma-Nir-Ra-Him"-786.
Indian Gourmet of Guernsey, Management policy by any mean is not committed invocation nor invites in crime against humanity, Revelation, hospitality, nor in dignity but to dedicate to bringing to a light as medically spoken word 'visual hallucination' in Language of Holy Bible Quran known as "Oddos-ho" and in the eyes of the Multicultural society Lovers Language known as "Love at first sight" and in the eyes of the Guernsey, (Royal), Magistrates Court Language known as "Introduction"
which mean in Language Arabic "Bis-Mil-La-Hir-Rak-Ma-Nir-Ra-Him" which mean in Her Britannic Majesty's' Languages;
"In the name of Almighty, Lord, (Allah/God/Dues), The most merciful and the most Beneficial of mankind"
Bis-Mil-La-Hir-Rak-Ma-Nir-Ra-Him"--(786).
In the name of out of ninety nine Lord name.
Indian Gourmet (الله ---Allah) the only signs we are proud to declare in trade in the Kingdom of Revelation in Culture.
and in 'Indian Gourmet' catering industries the most favorite starter "Fresh Green Salad"-(Ritual/Namaj/Worship/Act), and main dishes "Chicken Tikka Masala" without red colour attention without any his or her makeup.
To Whom It May Concern the unique ideas and thought into reality that may eventually lead authority of the States in the Kingdom of almighty Lord to positive thinking in tastes of 'Sub-Continent of India' once was known 'British India.'
the Cuisines, in Catering, in Culture, heritage, and in politics' to transformation in the lives of others those who without any self-seeking gainful benefits for own interests but for in our environment society alone?
As first European Country, Portugal, Missionary, Manoel Da Assumpcam written first Language "Bangla" in 1734, Today nation known as by 'Country' and Language 'Bangla'–'Desh' in the world, after almost three century the 'Indian Gourmet' management trust will not conquer by symptoms of "E. Coli" spread throughout the Guernsey as in Bangla five time a day "Allahu Akbar.
"WE ARE OPEN TO ALL"
And therefore, Guernsey Public's should not take no medical word for colour of 'Chicken Tikka Masala' Red colour cause Breast Cancers, nor 'Salad' cause 'E. Coli' symptoms therefore Indian Gourmet Management advice to Foreign Doctorates Doctors wash your face with Green Chilly powders, in presence of Royal Guernsey Magistrates Court and pay the States Fresh Green Salad, then take tablet "Zyprexa" then say to your registered patients color of Red cause breast cancers and 'Salad cause E. Coli' diseases . "Seeing, Hearing, sensing, things which is not there"–(tablet Seroxat).
lack of British Home Office and Medical advice 'Indian Gourmet' was force to suspend due to name, Reference and Reputation. The Foreign British Home Secretary, and Guernsey Employment Secretary of States are to decide the colour of truth. And Declare "WE ARE اللهPEN" to serve all nationalities? Five Time a Day, No alcohol Drinks, and no tablet 'Seroxat,' 'Zyprexa" or N.H.S. Tower Hamlet free packets of condoms but 'Indian Gourmet Fresh Green Salad' Sir?