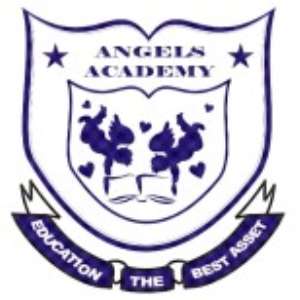 The school was established by the proprietor Ernest Opoku-Ansah on the 28th September, 1993 with the name Angels Preparatory School at its present location.
However, as the days went by the board and management envisaged a future upgrading of the school into a Junior Secondary Curriculum and Vocational System.
They therefore chanted the name to Angels Academy. The "Angels" actually was originated by Mr. Kwapong a former U.A.C Manager now of blessed memory.
The school presently runs a Nursery, K.G, Primary and Junior High School. However, plans are far advance for the running of a Vocational System. The school was established basically to train well-meaning future leaders of the Nation-Ghana and the world as a whole.
The motto "EDUCATION THE BEST ASSET" was thought of as an expression of the school's deduction from the analogy of a woman who had Gold legacy, but was duped because she was an illiterate thus making her wealth worthless to inherit. In terms of staffing, the first handlers of the school, academic work and management were Mr. Theophilus Adams and Miss. Doris Opoku Ansah. T
hey handled the school initially with five children (Pupils) in the living room of the proprietor. The first person to be admitted into the school was Miss. Joyce Anane. The Staff were later on joined by Mr. Appiah Michael and Mr.
Samuel Konadu Aye who set the Preparatory System on course. From the living room with three (3) teaching staff and five (5) pupils, the school has grown from strength to strength and now has twenty-three (23) teaching and non-teaching staff led by Regina Opoku-Ansah and assisted by the headmaster Mr. Etuah Gyan as well as the Parent Teachers Association (P.T.A).
It now has a population of two hundred and three (230) pupils and can boast of a completed Library, Offices, Computer Laboratory and Nine (9) classrooms. The school has its own Army Cadet as well.
Principal among the school's achievement is that, since the inception of J.H.S at the school it can boast of 100% distinction in B.E.C.E for seven (11) consecutive times. Also from the school won The National Awards organized by the Nestle Ghana Limited.
VISIT US HERE http://aa-ghana.ucoz.org