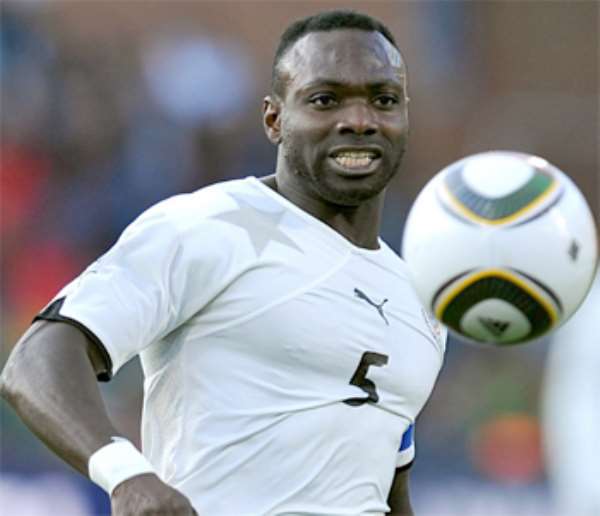 John Mensah
Courtesy African Origin Travels/ Royal Oasis Gh Ltd
Ghana skipper John 'The Rock' Mensah has told DAILY GUIDE SPORTS exclusively that he has recovered from the slight injury he sustained in Ghana's 2012 Africa Cup opener against Botswana.
'I am fine today, I feel much better and I hope that it will get better as the days roll by. The medical team has done so well,' said Mensah.
He trained with the team yesterday and he appeared very fit to play in Ghana's last group game against Guinea on Wednesday.
He resigned to the bench after an aerobic exercise with the team and a special training with the team's physio.
 And in his usual calm posture, he said, 'Let's see what happens on Wednesday. As I pointed out, I am getting better by the day. It was just a muscle contusion according to the medical team, and that should not take me away from the pitch for long.'
 The strong defender indicated that the team is improving as the tournament progresses and added that their title dream continues unabated.
He commended his colleagues for the Mali victory saying, 'I commend them for making us all proud. I urged them to go the extra mile before the game. I was proud of them as I watched them from the bench.'
Mensah, who scored in Ghana's 1-0 win against Gabon, has served his two-match ban for a red card offence and is fast recovering from a muscle contusion. 
From Kofi Owusu Aduonum, Franceville, Gabon