Michael 'The Bison' Essien is back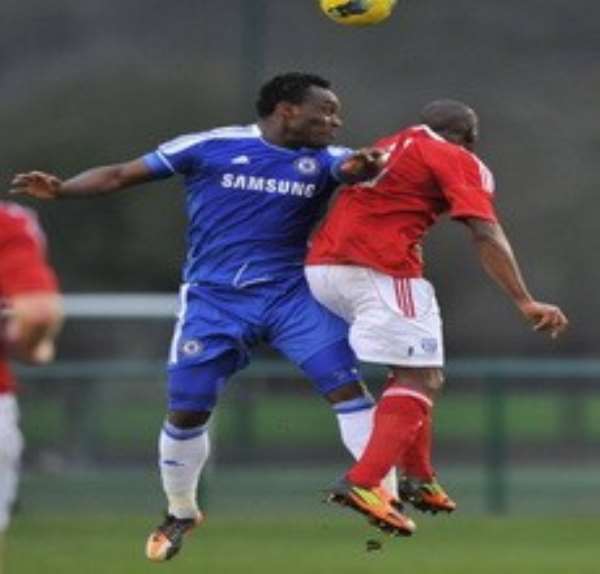 Essien hustling for a ball in the game on Monday
Chelsea's midfield dynamo, Michael Essien, has returned from a difficult six months layoff due to a recurring knee problem to play for the first time this season. The midfielder who is regarded as one of the best box-to-box anchormen suffered the devastating injury weeks before the commencement of the 2011-2012 English premier league season.
His absence from Chelsea has been conspicuous as the London club has recorded some disappointing results at home, notably, the 5-3 defeat to Arsenal and the back to back defeats to Liverpool.
But on Monday the Bison made his first appearance of the season and played 75 minutes in the Chelsea reserves side that lost to West Bromwich Albion by three goals to two.
According to the official website of the club, "it was a comfortable outing for Essien and was another step in his rehabilitation. He is not yet working with the first team and is expected to be back training with the squad towards the end of the month."
"The returning Essien had been a peripheral figure for much of the first half, but his influence began to grow as he cleverly used his experience to retain possession and break up play."
The Ghanaian came close to scoring when his header from a Chelsea corner missed the net by inches.
His return to action will be crucial to Chelsea's quest to win the Champions League for the first time in the history of the club.
Chelsea's underfire manager, Andre Villas-Boas, will also have at his disposal the assurance of the midfield powerhouse who has the penchant to shield the defense from marauding attacks.