Rival Sudans wrangle over border at UN Council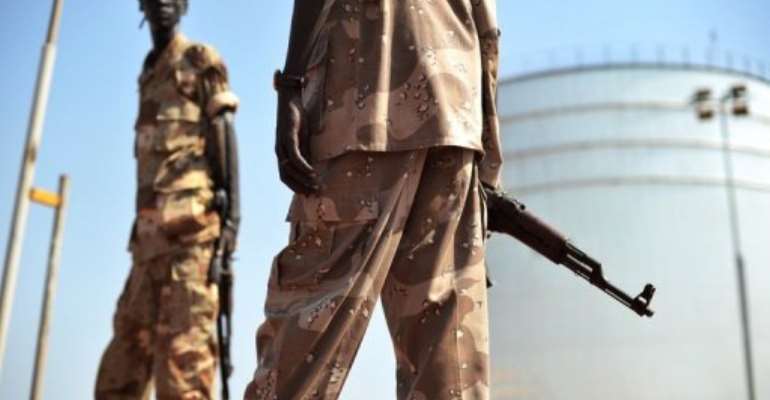 UNITED NATIONS (AFP) - Sudan and South Sudan on Thursday staked rival claims to a disputed border region at the UN Security Council after new clashes which have heightened fears of broader conflict between the rivals.
Ambassadors for Sudan and South Sudan both said that Jau, which the north's troops attacked last week, was part of their territory.
The two countries, which formally separated in July, do not have a fixed border and have also clashed over the nearby region of Abyei.
Sudan said last week it had taken territory near Jau from rebels allied to the south. It has since accused the South of staging attacks on the region. Both governments have confirmed clashes in recent days.
South Sudan says that Jau is part of its Unity state, while Sudan puts it in its South Kordofan state where it has launched a military campaign against rebels.
"We are very concerned by the recent escalation of tensions at the border, and in particular the recent attack by the Sudan Armed Forces on Jau in Unity State. We underline that Jau is a part of South Sudan," South Sudan's UN envoy David Buom Choat told the Security Council.
He said that Jau was the headquarters of the South's Sudan People's Liberation Army 9th division and this was recognized in accords between the two sides, who fought a devastating two decade civil war up to 2005.
Sudan's UN envoy, Daffa-Alla Elhag Ali Osman, insisted that "Jau is an inseparable part of the territorial integrity of Sudan."
"What we heard today is not true," he said of the speech by the South's envoy. Osman said the South's troops were fighting with Sudan People's Liberation Movement rebels in Jau.
"The presence of the 9th Division in Jau was illegitimate and was for the occupation of these lands. The land itself is northern territory, 100 percent northern," he said.
UN peacekeeping chief Herve Ladsous told the Security Council of his worries about border security between the two nations.
Ladsous said the border problems and the failure to agree an interim administration for Abyei, Sudan's refusal to withdraw troops from Abyei "are indicative of a lack of trust between the parties."
Diplomats from Western nations have also expressed growing fears of a major conflict between Sudan and South Sudan. Their civil war left an estimated two million dead.