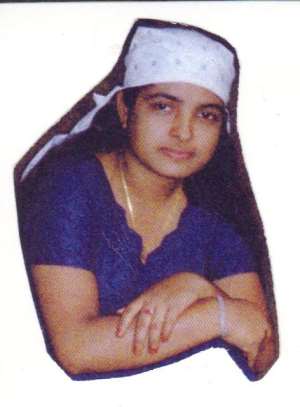 Shahida Begum Dina says Book of 'Nil Dariar Prem' Story of struggling Love, romance, passion, Pain and Spirituals in reality.
Poetry Nil Dariar Prem books of Bangla Poems, in real life capture story of Miss. Shahida Begum Dina, "Bandhu Atto Nistur" mean in English "Cruel Friend?" dwells her lonely deep into far as under the deep into Oceans of Sea as in history Prophet Ibrahim was inside the big fishes almost forty days meaningful and thoughtful Bangla poems. And believes that will surely entertain the Bilingual's readers in multicultural society around the globe.
Nil Dariar Prem poems Touches inside the human being hearts on sundry themes in Bangla that bring the memory back in the years far as 1734 and acknowledge the first Europeans Portugal man to cultivates language in Bangla, fascinates and amuse every ones those who are specially alone the lessons of life in loves, romances, as well as the virtue of promise life in the present times, the painful pain of lesson of loves in Culture in religion and spirituality life beyond imaginations poems played critical parts at the most difficult times in healing lose of love, romance, and making individual's person became a life again in reality. Over come the symptoms of depressions those who suffer loves sick's medically given name as known 'Agoraphobia'
Lost Friendship Those who in life often face 'Injustice of love' in real life by their lovers or loved ones the poems in 'Bangla' such as "Bandhu Atto Nistur" vividly depict the atmosphere of tropical's climates of feeling words in language 'Bangla' the poems convey the message of Lord, can relates or learn a lesson from such as cultural, Religion, History, love, emotional Inspirations in feeling of wisdom, about real life While the oceans of tears Often families who find themselves challenged by "Bandhu Atto Nistur" similar situations under the knowledge beyond their imagination in culture. Circumstances may differ but the memories of lessons of love are remain the same in Culture, Generation, and in history, 'Nil Dariar Prem' the Bangla book of poems Says in all. Published by Bonsai Prokashon, Zinda Bazar, in Sylhet District, Bangladesh.
For more information on this book, interested parties may log on to: www.gronthamela.com Face Book: http://www.facebook.com/pages/Neel-Dariar-Prem/146209355 ... Author Website: http://abdulhaye300503.wordpress.com/