Access Bank assists SMEs to develop workplace policies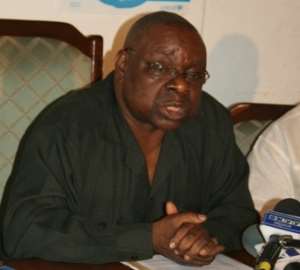 Kumasi, Nov. 22 GNA – Mr Joseph Yieleh Chireh, Minister of Health has said that with the economic constraints being experienced by the Global Fund, Small and Medium Entrepreneurs (SMEs) should commit resources to help manage and control Malaria, Tuberculosis and HIV.
"The current situation is such that if we rely on the global resources, we might not achieve our aim of reducing or fighting the three killer diseases", he added.
Mr Yieleh Chireh who said this at the opening of a day's workshop on SMEs policies Development organized by Friends of the Global Fund Africa in collaboration with Access Bank Plc noted that the three diseases were the main focus of the Global Fund.
The workshop, which is the fifth to be organized in Africa and introduced in 2010, seeks to engage, train and assist African SMEs in the development and implementation of workplace policies for HIV and AIDS, Malaria and Tuberculosis.
The programme is targeted to reach 2000 SMEs in Nigeria, Ghana, Zambia and Rwanda to be trained and equipped on the development and implementation of workplace policies on the three pandemics.
He said the effect of those diseases undermined the countries' productive capacity, perpetuated poverty, weakened the workforce and overwhelmed health services.
Mr Yieleh Chireh noted that because the three pandemics impacted negatively on productivity, there was the need for business to take the health of their employees seriously, adding, "If you lose the workforce to these diseases, then you will be silently collapsing your businesses".
He said the Ministry had taken a bold step by committing 2.5 million dollars to treat new HIV cases when there was no money for the Round 10 of the Global Fund.
"This is a clear example of what I am asking and entreating the SMEs to do so that if the Global Fund money is not forth coming, we will have some money to continue with fighting of the pandemics".
He reiterated the need for all to know their status by boldly going for the HIV test and do away with the fear which had engulfed many and stop the stigmatizing against people with HIV and Tuberculosis.
Dr Akram Ali Eltom who represented the Executive Director of the Global Fund, said the Global Fund was proud to have the private sector on board and having financed over 150 countries to fight the diseases over the past 10 years of its existence, "we see the increasingly important role that the private sector already played in many countries and beyond.
He commended Access Bank for supporting the SMEs and complementing the Global Fund in the fight against the three diseases and urged SMEs to have the health of its people at heart.
GNA